Networking: You should know these 5 no-gos
Making contacts and using them successfully has to be learned, because you can do a lot wrong with networking. Haufe author and networking expert Petra Polk revealed the 5 most important no-gos that stand in the way of successful networking.
No business without networking, no career without networking: Anyone who wants to get started today needs a network of reliable and stable contacts. Like most things in life, networking also follows certain rules. You should avoid these 5 mistakes if you want to network successfully.
Mistake 1: Fast Expectations
"Patience is the trust that everything will come when the time is right." What sounds like a worn-out saying could hardly be more appropriate for networking. Anyone who wants quick results - new job, new customer, new order - will fail. Building relationships and trust takes time - it's no different in networking than in love.
Mistake 2: rate contacts
When you get to know each other, never think about whether and how the other person can help you. Every contact can be a potential referrer: the guy who sits across from you on the train and whom you happen to talk to, as well as the cleaning lady, whose circle of acquaintances may be more exciting than you think.
Mistake 3: Don't leave an anchor
We deal with a lot of people in our private and professional life. Few of them stay in our heads after the first contact. Good networkers, on the other hand, manage to make themselves unforgettable. You don't just introduce yourself as Max or Evi Mustermann, but leave an anchor that makes you unforgettable: This can be an exotic hobby or an extraordinary résumé.
error 4: Have no goal
Anyone who networks with others should have a specific goal in mind. Are you looking for a new job? Would you like to exchange ideas with like-minded people? Or are you looking for a mentor who is already where you want to go professionally? It is important to keep this goal in mind in all activities.
error 5: Don't have fun
Networking has to be fun! So look for a network - whether in the virtual or the real world - that suits you.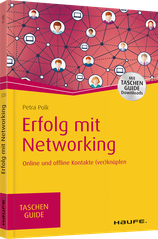 Would you like more tips?
You can find more about networking, small talk and how you can make new contacts in Petra Polk's book "Success with networking". In it you will find out how you can build and expand your own personal network with ease and fun - personally and on the social web.