Blackmail via email: Allegedly watched porn and hacked on camera
Words like: "It's about your safety" or just "Account" or "Video" are in the subject and are intended to entice the recipient of the email to open it. The text is about something else: blackmail. The unknown senders write on clearly randomly selected recipientsthat they hacked their webcam and filmed them watching porn and "sexually engaging themselves". Only if the recipients transfer a certain amount in bitcoins could they prevent the films from being passed on to families and friends or being published.
In our opinion, these emails are usually not to be taken seriously. As a rule, this is also the view of the police, as numerous press releases from various departments show. Nevertheless, it is important to view such e-mails (see "How to react correctly" below).
In another version, the senders claim that they infected the recipient's computer with software that found pornographic files and threaten to inform friends and family about it. Sometimes files are attached to these blackmail messages that should never be opened! Because they are very likely to damage the device of the e-mail recipient.
Personal data are supposed to increase pressure
The phishing radar of the consumer advice center in North Rhine-Westphalia has received numerous such emails over and over again for months. In early 2021, criminals apparently started a new wave. New here: One day after the first e-mail, a second comes as a "friendly reminder" - usually from a different sender. In some emails they want them through real ones Passwords or Cell phone numbers the recipient still increase the pressure. Also Postal addresses of their recipients build the senders into the e-mails. In mid-November 2019, variants appeared for the first time in which the name, the address, the Date of birth and even the Bank details the recipient are included.
Such methods have long been known from other spam emails, usually come from cracked databases or the purchase of data sets and have nothing to do with the claims in the emails. However, you should check the withdrawals from your bank account in case you receive an email with your correct account number.
In another version of blackmail, the recipients appear to be the senders of the messages. The blackmailers explain this in the text by stating that they installed a virus that enabled access to the e-mail account. That is usually one too fictitious claim. Because what is displayed as the sender of an email can be easily manipulated. The e-mail header provides information about the real sender (or at least the server from which the message was sent).
Police speak of "arbitrarily selected addressees"
Police experts are not yet aware of any case in which the allegations are true. The State Criminal Police Office of Rhineland-Palatinate announced in May 2018: "The threatening emails are mass mailings to any selected addressees."
Examples
Example of a ransom email with an allegedly "stolen" password: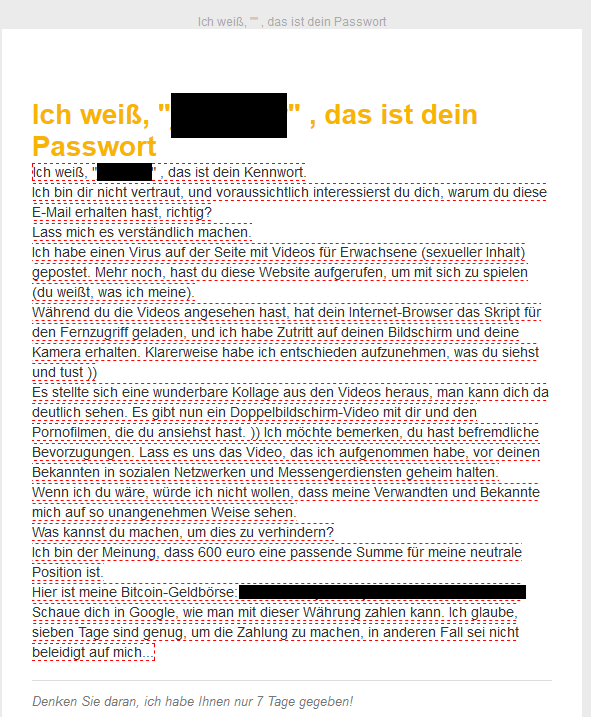 Example of a ransom note in English: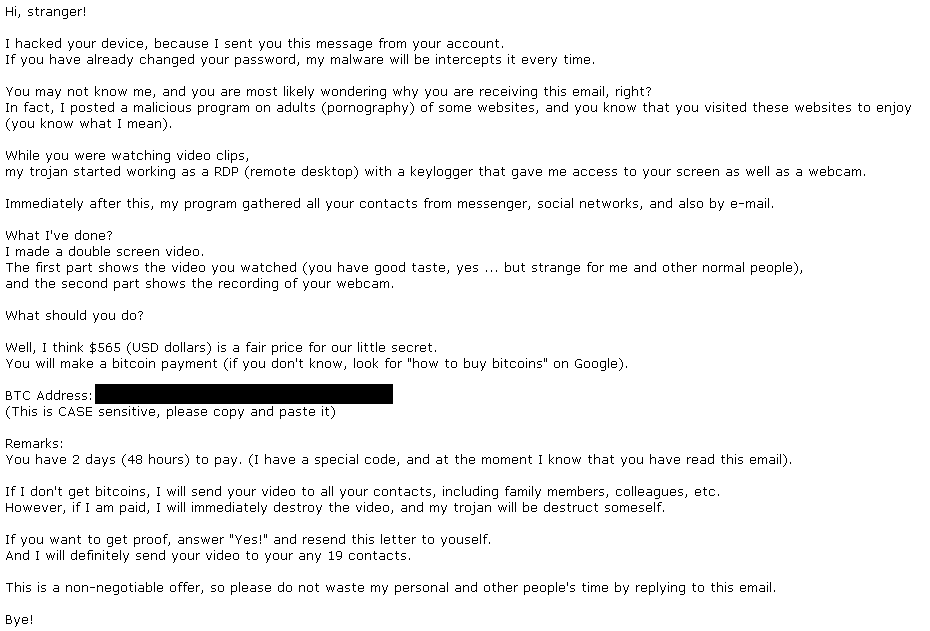 Example of a ransom message with personal details of the recipient: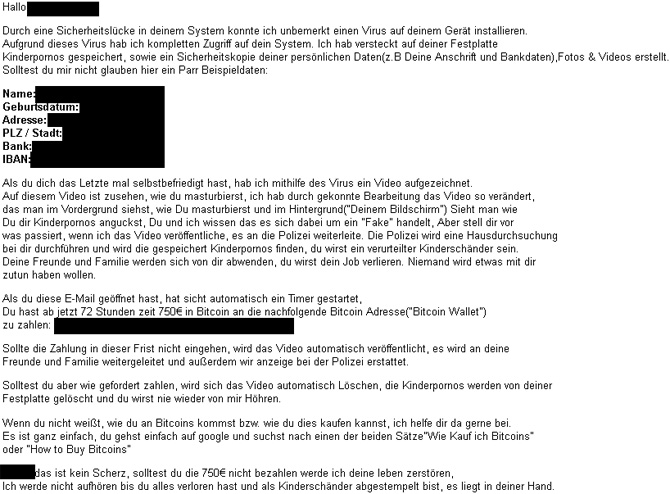 Blackmail with voluntarily created pictures
The situation is different, by the way, when an attempt is made in relevant video chats to induce good faith chat partners to engage in sexual acts in front of the camera and then to blackmail them with these recordings. There are actually video recordings here that could also be published. The police have published some information and tips on this.
How big is the risk of a camera hack?
However, it is actually not entirely unlikely that a camera will take pictures unnoticed. The software security company Checkmarx has discovered a security flaw in Android that allowed apps to access the camera unnoticed - even if users had not given them authorization to access the camera. According to Checkmarx, smartphones from Google and Samsung were affected. There is no information about other manufacturers. The danger was eliminated with an update of the camera app in July 2019, it is said. You can read details on the Checkmarx website.
The security company Proofpoint has reported another serious threat: Since September 2019, the "PsiXBot" Trojan has been said to be able to start audio and video recordings unnoticed as soon as a porn site is accessed. The video is saved as an AVI file and then sent to a server.
How can you protect yourself?
Even if it doesn't look good, it is best to mask your webcam when you are not using it. This also applies to smartphone cameras.
Be sure to use an up-to-date virus protection program and have it completely scan your computer for viruses from time to time.
Install updates for your operating system. Only trust updates that are offered by the operating system itself. Offers by e-mail or on third-party websites can be harmful programs!
Only install apps from trusted sources. Before installing, check the manufacturer's descriptions, user reviews and ask critically what you want to use the app for and whether any required authorizations are really necessary.
This is how you react correctly
If you receive such an e-mail, do not under any circumstances accept the claims! Do not open any attachments or reply to the sender. Report it to the police, as extortion is a criminal offense. Most of the federal states have an internet police station where you can file your complaint online. There is little chance of getting hold of the actual senders. However, this problem only appears in the crime statistics with reports and can be seriously pursued by the investigative authorities.
Forward suspicious emails [email protected]. This enables us to identify current scams and warn of them on the phishing radar. After forwarding the e-mail, move it to the spam folder or the trash in your e-mail program.
Have your access data for online services been stolen in a hacking attack? There are internet sites where you can find out. At checked4you.de, the online youth magazine of the NRW consumer organization, we present two serious offers.