Is PR overrated for B2B startups
Primary menu
Sometimes questions seem better than answers. That's why I'm going to ask a lot of questions in this post. Not out of convenience, but because I can't know the answers. The prerequisites, projects and drivers are too individual - with the intentional and constructive approach to a social media strategy. And this is what we will focus on in the following.
We have to ask to understand 1,000 great things
The other day I got an invitation for a chargeable [sic!] Seminar called "Known without a budget - social media marketing for startups". This series of events is also available for public relations, content marketing, storytelling and who knows what else. Apparently with success. But I have to slide right in between and pull this wisdom tooth. It is a widespread misconception that social media is available for free and that a corresponding strategy is therefore overrated. Rather, it is like this:
A lack of strategy and a lack of understanding of the necessary human and financial resources are the most common reasons why companies fail with social media.
"Social Media Doctor" Sebastian Riehle
This impression hardened during a workshop. My experiences there will play a more central role below. So just one thing in advance: Me / Us Uwe this post appeared to be useful! This is how a checklist was created - to download, share and think about.
A little more like you, less like me
During my research, I came across countless posts on social media marketing. There is little to read about explicit strategic approaches. Interesting approaches flow in the form of reading tips to deepen the local topic. However, not without emphasizing that I see social media marketing as a discipline in the communication mix. Not - as sometimes suggested - as a synonym for a social media strategy.
Social media is a term that now falls short for me. I try to avoid it and prefer to speak of an online strategy.
Marie-Christine Schindler, PR consultant
Overall, it is (not) surprising that there is no comprehensive definition so far. At least I couldn't find an adequate social media strategy either in this country or anywhere else ...
Definition of social media strategy: A social media strategy is a mainly digitally driven component of a holistic communication concept of companies or other organizations. The focus is on the needs of the stakeholders and the realization of long-term goals using social media. It is a concept that takes the status quo of the company into account, corresponds to the brand essence and provides content relevant to the target groups and personas at strategic interfaces. All behaviors and measures within this strategy support internal and external communication and are continuously and critically scrutinized with a view to the competition.

Components of a social media strategy - an attempt at a holistic definition in a practical test.
Let's not make it more complicated than necessary - we make it possible
That's the theory. In practice, it can be observed how specialist portals, online magazines and other web guides or agencies neglect the topic of social media strategy. General statements, supposed insider tips and a bouquet of measures are presented - paired with an entertaining headline for the perfect implementation of all conceivable goals.
Social media is mostly reduced to Facebook and, especially in skeptical circles, the door closes and the store goes down.
Marie-Christine-Schindler
"In ten, seven or five steps to a target-oriented social media strategy" it is often said. However, my experience as a PR consultant has shown me that a brisk approach of this kind is usually not productive. Because neither small and medium-sized companies nor public institutions know how to deal with such industry-typical identifiers and quick fixes created especially for them in the long term. All because the basis is not laid, but presumably built on sand. Instead, more profundity is required.
A social media strategy combines the unique selling points and history of an organization with the wishes and problems of the target group.
Sebastian Riehle
This also means a responsibility on the part of the company. The main thing is to self-critically review the previous approach and the workarounds. To get an overview and to be able to call it up at any time. And regardless of this, not to be blinded or belittled, but to differentiate.
Because some rumors about social media are persistent, although they belong in the analog world of legends and fairy tales. Be exemplary Social media clichés and demystifying target bar links called:
Social media don't cost anything: Most platforms are free to use, I agree. But the care and maintenance of the accounts as well as the content creation require resources. Production costs for moving image content and other external service costs for outsourced tasks such as text creation or graphic design may arise. Note: creativity has its price!
Social media are easy to handle: That's true when there is a strategy or experienced protagonists swing the scepter or suitable tools. Meanwhile, we are talking about encrusted structures of public relations on the one hand and modern forms of communication and interaction with stakeholders on the other. It's about knowledge transfer, behavior and crises. And thus about constantly changing challenges and unpredictable sensitivities. Regardless of the competition, these tasks should not end up on weak shoulders.
Social media must be a matter for the boss: Nope. Whether new strategies and processes are implemented top-down or bottom-up depends on the initial situation. The will to rethink, the implementation of a strategy and the operational implementation of initiated processes are not reserved for any specific employee level. On the other hand, it makes things a lot easier if the management is or has been convinced of the project. An awareness of agile leadership also helps.
Social media have little claim: You're welcome? All the fans, followers and Instagram husbands have an opinion - there are important and less important topics for them. Well, the last-mentioned fringe group is never allowed to express itself. But all shitstorms, hater attacks, love brand hype and so-called virals show one thing: the content that is spread is relevant! What relevance means for each and every one of us in this context is something that only we know ourselves. One thing is certain, there are differences between writing and typing.
Social media are essential: Well, there are companies for which a broad engagement in the social web is not worthwhile. Local heroes, for example, organizations with a special B2B focus or niche providers. The direct and personal dialogue is more effective in these cases (and in general). As a result of digitization and changing user behavior, social media are important. Important for a better understanding when aligning all corporate communications.
For me, social media is the umbrella term for networking and communicative exchange via internet platforms. An instrument for the targeted dialogue between companies or organizations and their target groups.
Sebastian Riehle
A social media strategy would be great now, please
We are now picking up the individual components of a social media strategy step by step and, as mentioned at the beginning, asking a lot of questions. Of course, a subsequent discussion and evaluation does not replace this procedure.
The temptation is great to think in terms of the channels first when considering a social media strategy. However, such a strategy can only be part of the overall communication strategy, which is derived from the organizational and consequent communication goals.
Marie-Christine-Schindler
I developed the following impulse questions in a similar way for a social media workshop - they have been tried and tested in practice. They serve to make internal structures transparent, to sensitize them to diversity, to think outside the box and to initiate processes for the implementation of a strategy. In short: to put your finger in the wound.
Everyone will generate further questions for themselves from this. And so it is intended. There is no claim to completeness and for the said reasons no answers on my part. There is a summary checklist as a PDF beforehand.
#Status quo
Relentless honesty and clarification are required right from the start. If no basic information is available, if the uncertainty prevails or if the wall is built up - we can pack up again straight away. At this point in time a bitter realization without much impact.
How are we positioned in terms of social media so far?
What resources are available to us?
Are there internal and external communication processes?
Are customer needs satisfied through our content?
Do our messages get through?
#Target group
Let's leave our comfort zone and forget for a moment what we think we know about our target group. Far from any prejudice, surprising constellations arise, as the following video impressively shows.
Who do we want to enter into dialogue with?
How should the target group be addressed?
Do we know the specific user behavior of the target group?
Where is our target group active?
How does our target group use social media?
#Benchmark
Even public institutions are in competition - for the favor of consumers. A lot can be learned from the latter. After all, consumers are also producers, especially in social media.
Who could be one of our competitors?
What is our competition doing on the social web?
Which company could serve as a role model for us?
How do organizations from outside the industry deal with social media?
What strategies do well-known brands pursue, for example?
#Aims
Classic objectives are increasing awareness, increasing awareness, increasing interactions with the community and general reach, creating a professional social media presence to improve your image, generating interested parties (new German: leads) and new customers, or positioning yourself as an expert.
What goals do we want to achieve?
What is the purpose of using social media?
Which objectives can be supported by social media?
How can the goals be measured later?
What happens if the set goals are not achieved?
#Content
This point cannot be dealt with in two sentences. Fortunately, I don't owe any answers this time. That is why I would like to see the great "content traffic light" from Dr. Bring Kerstin Hoffmann into play and get out of the field discreetly.
What types of content are there?
What content is available and can be used immediately?
When is the best time to publish the content?
How often should content be published?
Are there priorities or do we have unique selling points?

#Channels
Only now has the right moment come to select the platforms for the social media activities. The offer is almost limitless. In my opinion, forums and social network groups are largely underestimated. There are guaranteed to be some that meet the demands of everyone involved. Everything else is shown in ethority's "Social Media Prism".
Which channels do we want to use?
Which channels are to be classified as relevant?
What are the advantages and disadvantages of social networks?
Which social media does our content fit into?
How do the mechanisms of the different channels work?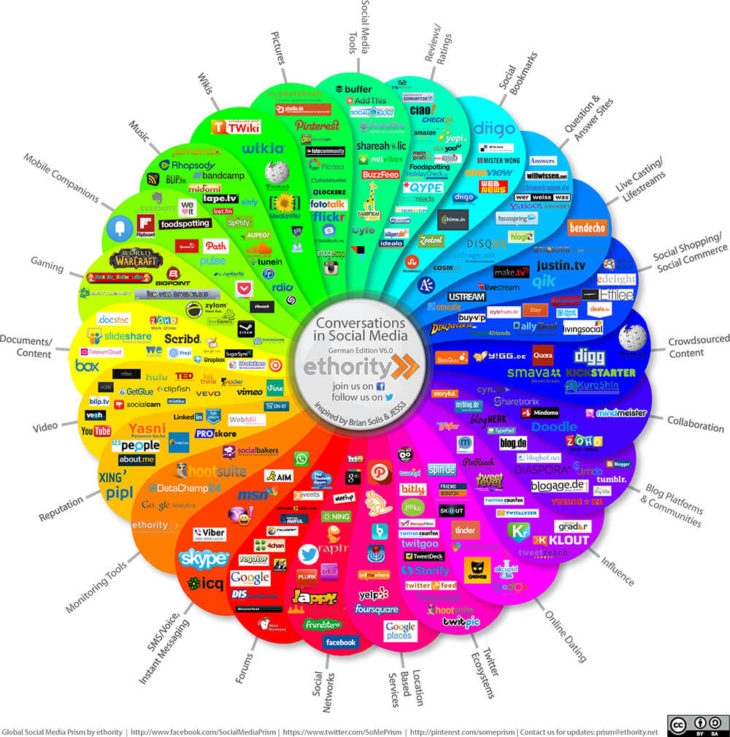 #Implementation
The previously decided measures must be binding. For this purpose, it makes sense to designate a permanent contact person for each area of ​​responsibility. For starters, social media could also have a regular slot at the weekly jour fixe.
How should the strategy be implemented?
How can we ensure that our accounts are not orphaned?
Are there any plans in terms of resources and effort?
Are there any restrictions or interests of third parties to be observed?
Who could be our brand ambassador?
#Controlling
Everything has an end, except the analysis. And yet this closes the circle of a social media strategy. As at the beginning: Relentless honesty and clarification are required. Sometimes questions just seem better than answers.
Which key figures are used to monitor success?
What has been learned from previous activities?
How is a regular analysis ensured?
Were the resources used efficiently and in a targeted manner?
Which comparison periods are used?
Conclusion: if so, then do it right!
If in the end there is a decision in favor of social media, then please do not go it alone half-heartedly or spread loveless content. In order to stand out in the social media jungle in the long term and to be successful, a strategy is required. Every organization needs to know exactly what it wants to achieve with social media. And above all, ask about the customer's goals. The answers to this are complex. That's why it will the not giving a social media strategy, but - as has been shown - the right questions along the way.
Ultimately, the challenge is to allow a change of perspective and not to shut yourself off from trends and innovations from the outset. Weighing up properly and fulfilling our responsibility towards stakeholders and the company. Otherwise, all efforts were for the cat (no, this does not mean cat content!) - and later the disillusionment is great.
With all the planning, we must not neglect the creativity factor with a view to the long newsfeeds. It is particularly important to review the chosen strategy in all areas and to be open to changes. In this way, the social media find their required place in the integral overall concept of communication.
Article picture: Martin Mummel / GRVTY
The social media strategy does not fall into your lap - an approach with a checklist
Rating: 4,442 votes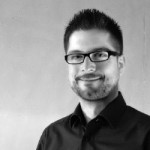 Hello Sandy,

Thank you very much for your detailed comment and the praise!

Overall, there is actually a lot of catching up to do here, or at least great interest - at least that is how the feedback on this post can be interpreted. It is up to us to continue to point out this topic and emphasize its importance.

Best wishes
Stefan

reply

Hello Dirk,

Thank you so much! I would rather that companies learn quickly and get rid of their reluctance ;-)

Best regards
Stefan

reply

Hello Ralph,

Thank you very much - your contribution reads very well and I would "only" put it in quotation marks ;-) The numerous sources are also helpful!

Best regards,
Stefan

reply

Hi Max,

Thank you for the praise and the diligent dissemination!

Best regards
Stefan

reply

Hello Carolin,

thank you for your understanding and your humor :-) Maybe ...

Best wishes
Stefan

reply