You Can Get Cancer If You Are Vegan
Cancer risk decreases significantly with a vegan diet
In February 2016, an Italian review article, in which the aim of examining the health-protective effect of vegetarian and vegan diets on the basis of 96 studies, showed that these diets can reduce the risk of heart disease and cancer. The cancer risk with a vegetarian diet fell by 8 percent, with a vegan diet by 15 percent. The risk of ischemic heart disease decreased by as much as 25 percent.
A few months later in May one read the British Journal of Nutritionthat in a study with 50,404 women, not vegetarians, but vegans had a lower risk of breast cancer than non-vegetarians.
Vegan diet works against cancer through different mechanisms
In February 2017 one read in Medical hypotheses about the following very interesting connections:
The so-called fibroblast growth factor 23 (FGF23 abbreviated) is a hormonal regulator of the phosphate and vitamin D metabolism. It is especially produced in the bone cells (osteocytes) and mature osteoblasts (bone-forming cells). Now we know that this growth factor also promotes the growth of many prostate cancers and also the formation of bone metastases. Therefore, dietary or lifestyle factors that accelerate FGF23 formation are also believed to promote cancer and metastasis.
The formation of FGF23 is accelerated, for example, by a high consumption of phosphates and calcium. Both are considered risk factors for z. B. Aggressive prostate cancer. Plant-based diets, on the other hand, are not necessarily poorer in phosphates and calcium, but they often provide these minerals with a lower bioavailability than animal products. In this way, they can downregulate FGF23 levels and possibly explain the lower risk of cancer in vegan or almost vegan cultures.
Vegan Diet: Best Diet for Cancer Prevention
Read here how a healthy vegan diet can be implemented: 14 rules for a healthy vegan diet. Because an unhealthy vegan diet can - just like any other unfavorable diet - lead to deficiencies in vital substances, for example a vitamin B12 deficiency, which in turn would be a risk factor for cancer. That is why it is so important to carefully compose your diet and - where necessary - to use nutritional supplements. If you take these 14 rules into account, you can be sure to do the best possible for yourself and your organism. You can also use our vegan recipes section.
An interesting documentation about vegan nutrition, lifestyle diseases and more can be found here under this link.
* An exciting book: "China Study: The Scientific Rationale for a Vegan Diet" can be found here under this link.
This article contains advertising. Our website contains affiliate links (* mark), i.e. references to partner companies, e.g. to the Amazon website. If a reader clicks on an affiliate link and subsequently on a product from our partner company, we may receive a small commission. With this we cover part of the costs we have for the operation and maintenance of our website and can continue to keep the website free of charge for our readers.
donation
Your donation helps us
If you enjoyed this article, we would appreciate a small contribution to our work! Donate now with Paypal.
display
Distance training to become a holistic nutritionist
Are you interested in what's in our food and want to know how nutrients and vital substances affect the body? Do you want a healthy life for yourself, your family and fellow human beings? Nutritionists are popular - but the holistic aspect that is needed for sustainable health is often forgotten when giving advice. At the Academy of Naturopathy, you will get to know the connections between lifestyle and diet as well as physical and psychological well-being.
That educates interested people like you in around 16 months to become a holistic nutritionist out.
Is this article worth reading?
Share this article
swell
McCarty MF, Veganproteins may reduce risk of cancer, obesity, and cardiovascular disease by promoting increased glucagon activity., Med Hypotheses, December 1999, increased glucagon activity)
McCarty MF, Plant-based diets relatively low in bioavailable phosphate and calcium may aid prevention and control of prostatecancerby lessening production of fibroblast growth factor 23. Med Hypotheses. 2017 Feb, (Plant-based diets have relatively low levels of bioavailable phosphate and calcium, which could help prevent and control prostate cancer by reducing the production of FGF-23)
Melina V et al. Position of the Academy of Nutrition and Dietetics: Vegetarian Diets. J Acad NutrDiet. 2016 December, (Position Paper of the Academy of Nutrition and Dietetics: Vegetarian Diets)
Szab & ampoacute; Z et al., [Plant-based diets: a review]. Orv Hetil. 2016 Nov, (Plant-Based Diets: An Overview)
Ronis MJ, Effects of soy containing diet and isoflavones on cytochrome P450 enzyme expression and activity. Drug Metab Rev. 2016 Aug, (Effects of a diet containing soy and isoflavones on the expression and activity of the P450 enzymes)
Penniecook-Sawyers JA et al., Vegetarian dietary patterns and the risk of breast cancer in a low-risk population. Br J Nutr. 2016 May, (Vegetarian Diets and Breast Cancer Risk in a Low Risk Population)
Dinu M et al., Vegetarian, vegandiets and multiple health outcomes: a systematic review with meta-analysis of observational studies. Crit Rev Food Sci Nutr. 2016 February, (Vegetarian, vegan diets and diverse health effects: A systematic review with meta-analysis of observational studies)
Goldhamer AC et al., Water-only fasting and an exclusively plant food diet in the management of stage IIIa, low-grade follicular lymphoma. BMJ Case Rep. 2015 December, (water fasting and an exclusively plant-based diet in the treatment of follicular lymphoma in the 3rd stage)
Ling WH et al., Shifting from a conventionaldietto an uncooked vegan dietreversibly alters fecal hydrolytic activities in humans. Nutr. 1992 April, (Switching from a conventional diet to a vegan raw food diet changes hydrolytic activities in human stool)
Fraser G et al., Are strict vegetarians protected against prostatecancer ?, Am J Clin Nutr. 2016 January, (Are strict vegetarians protected against prostate cancer)
Tantamango-Bartley Y et al., Vegetarian diets and the incidence of cancer in a low-risk population. CancerEpidemiol Biomarkers Prev. 2013 Feb, (Vegetarian Diets and the Incidence of Cancer in a Low Risk Population)
Orlich MJ et al., Vegetarian dietary patterns and the risk of colorectal cancers. JAMA Intern Med. 2015 May, (Vegetarian diets and the risk of colon cancer)
Cavouoto P et al., A review of methionine dependency and the role of methionine restriction incancergrowth control and life-span extension. CancerTreat Rev. 2012 October, (A Review of Methionine Dependence and the Role of Methionine Restriction in Control of Cancer Growth and Lifespan Extension)
Lanou AJ et al., Reduced cancer risk in vegetarians: an analysis of recent reports. CancerManag Res. 2010 December, (Reduced Cancer Risk In Vegetarians: An Analysis Of The Latest Reports)
Dewell A et al., A very-low-fatvegan diet increases intake of protective dietary factors and decreases intake of pathogenic dietary factors. J AmDietAssoc. 2008 Feb, (A very low-fat vegan diet increases the absorption of protective nutrients and reduces the absorption of harmful nutrients)
Dewell A et al., Relationship of dietary protein and soy isoflavones to serum IGF-1 and IGF binding proteins in the ProstateCancerLifestyle Trial. NutrCancer. 2007, (Relationship between dietary protein and soy isoflavones as well as serum IGF-1 and IGF-binding proteins in the Prostate Cancer Lifestyle Study)
McCarty MF, Mortality from Western cancers rose dramatically among African-Americans during the 20th century: are dietary animal products to blame ?, Med Hypotheses. 2001 August, (Mortality From Western Cancers Raised Dramatically Among African Americans During the 20th Century: Are Animal Products the culprit?)
Notice on health issues
This information is passed to the best of my knowledge and belief. They are intended exclusively for those interested and for further training and are in no way to be understood as diagnostic or therapeutic instructions. We do not assume any liability for damages of any kind, which arise directly or indirectly from the use of the information. If you suspect illness, please consult your doctor or alternative practitioner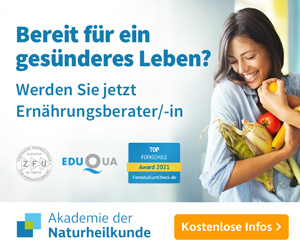 Subscribe to Newsletter
Exciting information about health and nutrition
1x per month
Login Successful. You will shortly receive a confirmation at the specified email address.
With your registration you allow the regular sending of the newsletter and accept the data protection regulations.
HEALTH CENTER © 2021 Neosmart Consulting AG. All rights reserved.