30 minutes of this exercise is enough
The M.A.X. - Full body workout in just 30 minutes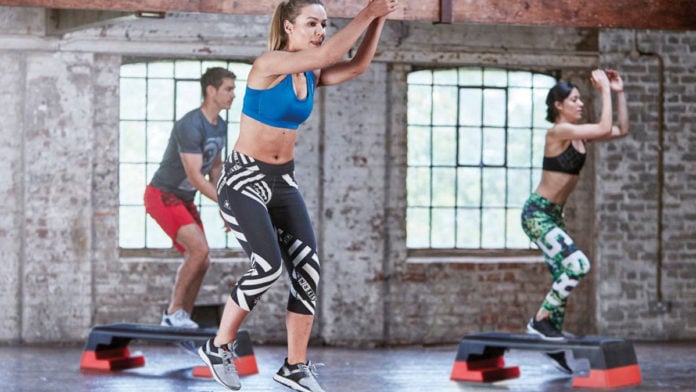 Train hard but smart - the motto of M.A.X.
It is a fitness concept from Switzerland, which makes enthusiastic fitness ambitious people sweat within 30 minutes and thus allows the entire body to train intensively.
With this concept nobody has the chance to say: "Unfortunately I don't have enough time to train." Without previous knowledge, M.A.X. every age group and every fitness level a common introduction to training. In this article we explain exactly how these 30 minutes are structured and what exactly is behind this fitness trend.
What does M.A.X. / What does MAX stand for?
MAX. stands for …
MUSCLE
Training focus on muscles and body shape
ACTIVITY
Combination of endurance, coordination and strength training
EXCELLENCE
X-cell and effective full-body training
Origin of M.A.X.
The concept was invented by the Swiss personal trainer and fitness expert Cyrill Lüthi. He is a trainer and heads the entire training and further education program at the star training school, which also includes the M.A.X. was registered as a trademark.
Successfully introduced in Switzerland in 2013, M.A.X. also a short time later gained a foothold here in Germany. Courses are now offered in Germany, Austria, Hungary and Finland.
Training concept
MAX. offers an effective fitness concept in just 30 minutes, which focuses on strengthening the muscles and improving body shape. On the basis of HIIT training (high-intensity interval training), both strength and endurance are combined for optimal fat burning. With one training session, all body regions are trained in a very short time. Each exercise focuses on at least two different muscle groups and trains them at the same time. Before your body can get used to the exercises, they are replaced by new exercises. This means that the training units are changed every 3 months and the four blocks are replaced with new ones.
The concept behind high-intensity interval training
The idea behind HIIT is to push the body to its performance limit in a short stress phase. That means high-intensity training alternating with several short recovery phases. While you train to exhaustion during the intensive training phase, you have the recovery phase to regenerate. Due to the oxygen deprivation that occurs during training, your body then works more than usual to replenish the exhausted oxygen balance - this means that your body burns calories afterwards. In addition to the calories burned, muscles can also be built at the same time. The calorie consumption with HIIT should be even higher than with classic endurance training.
Training sequence of 30 minutes M.A.X.
An M.A.X. Unit consists of four blocks. These in turn each consist of six exercise and recovery phases. Three exercises of 45 seconds each are performed on the right and left in each block. In between there is always a 15 second break. In total, after four blocks you get a total of 30 minutes of intensive full-body training.
The three exercises per block always contain one endurance, one strength and one stabilization exercise. Each of the exercises is in turn available in different levels of difficulty, for optimal execution - depending on the fitness level.
Endurance exercises are usually small sprints with and without an aerobic step. The strengthening focuses on the individual areas of the stomach, legs, bottom and upper body. Of course, it is essential to ensure a stable core for all exercises, but the stabilization exercise focuses on the tension of the entire body.
For whom is M.A.X. suitable?
A great advantage of M.A.X. training is the fact that all age groups and fitness levels can participate at the same time at any time. Thanks to the individual levels of difficulty, both beginners and professional athletes can choose their own intensity and train to their limits. The manufacturers recommend two to three training units of 30 minutes each per week, which reduces the time in the gym to a minimum.
Equipment / equipment
Good mood, motivation, mental and physical presence ... and an aerobic step are part of the concept. Because with M.A.X. training, the exercises are performed with one step and your own body weight. Sports shoes are also important for a safe stand and to prevent the risk of slipping.
For motivation, there is music specifically tailored to the exercise phases - suitable for the stress or recovery phase. In addition to the trainer, the music also gives a countdown of when the respective 45/15 seconds begin or end.
Both the music, the stereo system and the step are provided by the respective course provider and do not have to be organized by yourself. In addition, the music is changed at regular intervals.
Motivation video
Difference to classic step aerobics
Classically, step aerobics stands for a combination of gymnastics and dance, with different dance elements on one step. The focus here is exclusively on endurance, coordination and the muscle groups legs and buttocks.
A step is also used in M.A.X. training, but in contrast to the classic step, the focus is not on endurance, but on strength training and is only supported by endurance. Therefore, every muscle group in the body is specifically trained.
In a nutshell ... What does MAX bring you?
As already mentioned, training offers you an effective full-body workout within 30 minutes. The exercises are shown in advance and explained in detail for everyone. The exercise sequences remain the same for three months and can therefore be memorized. The training not only strengthens physically, but also brings you mental challenges. These are in turn pushed further by motivating beats. A workout for the stomach, legs, buttocks and arms - simply for the whole body.