Google AdWords Why PPC Campaigns Fail
Google Data Studio for Google Ads - 5 tips - How to visualize your success in online marketing // Reading time: 5min
Key learnings:
Google Data Studio: Free tool for creating interactive reports and dashboards.
Benefits:Huge range of data sources, visualization of data and results, graphic customization, sharing reports in a team
Terms:
Data connectors: Interface in Google Data Studio to the various data sources such as Google Analytics or Google Ads
Report templates: Reporting templates that can be customized
Controls: dynamic elements within a Google Data Studio report, e.g. for selecting a period or setting filters within the report
What is Google Data Studio?
Digital marketing is far superior to offline marketing in one aspect in particular: measurability. The amount of precise data that can be used to optimize campaigns and target groups without major wastage makes the heart of every marketer beat faster. The only problem with this: the flood of data quickly becomes confusing. Making well-founded and data-driven decisions is then no longer that easy. This is where Google Data Studio can help. With the help of interactive dashboards and reports, data can be presented in an understandable way and used optimally for well-founded business decisions - and completely free of charge.
What features does Google Data Studio offer you?
The range of functions in Google Data Studio is enormous. Whether detailed reports or dashboards with summary information - Data Studio provides the tools you need to link the data analyzes, create attractive visualizations and share insights with your team. The key functions at a glance:
Data connectors: each data source has its own connector to simplify data access and use
Data transformation: Use your raw data to create the building blocks for meaningful diagrams and reports
Data visualization: Using a variety of customizable templates, you can set up appealing presentations that can also be adapted afterwards thanks to dynamic elements
Approval and collaboration: the reports and dashboards created can be shared in your team in no time at all
Which data sources can Google Data Studio be linked to?
With the various data connectors you can supply your Data Studio reports with data. In addition to the Google Connectors to all classic Google tools such as Analytics, Ads, BigQuery or Youtube, a large number of Community Connectors are available that enable the integration of every imaginable database.
Now let's take a look at the possibilities that Google Data Studio offers for the visualization of your Google Ads campaigns. The simplest option is to use a Report templates, in this case the Google Ads Overview. You can use this template as a starting point for all your Google Ads campaigns - to adapt the report to different accounts and time periods, simply select them using the dynamic controls at the top of the report. The standard setting of the template provides an insight into common KPIs over time, such as click and conversion rates or the click price.
Next we want to customize the report. The basis for this is the change to the Edit mode by clicking on the corresponding button in the top right corner:
An editing window will now open (Design and layout) on the right side of the screen and the edit bar at the top. About the area Design and layout you can customize the look of your report - from colors for data bars to fonts and sizes, everything is customizable here.
A big advantage: you can also insert brand logos here! With a brand logo and a color design as part of the corporate identity, your reports will not only appear more coherent, but also make a far more professional impression on your partners and customers. This is simplified by the button Import design from image in the lower right corner of the interface, with the help of which Google Data Studio automatically generates a design based on a stored image (e.g. the company logo) With just a few clicks you can achieve a great effect here!
Next, we take a look at the content of the report. If you do not want to remove the diagrams on the first page and still want to add more graphics, you can easily add more pages to your report using the button in the upper left margin. There you can not only display further diagrams with the data of your Google Ads campaigns, but also integrate other data sources such as from a Google Survey or Analytics. This is done using the button Add data.
From now on it depends on the specific framework and objectives of your campaigns which one Diagrams and Controls you want to insert. From classics such as bar or column charts to complex maps and pivot tables, everything is possible. Interactive buttons (control elements) ensure that your report provides a comprehensive and dynamic insight into the performance without having to log in to the accounts. For example, time-period controls, with which different months can be compared with one another within the report, and filters, which enable the ability to single out individual aspects of the data, offer added value.
Conclusion on Google Data Studio
The Google Data Studio is a comprehensive, very easy-to-use tool to clearly report statistics from Google campaigns. It has the advantage that the data can be drawn from numerous platforms. All relevant display options are also available, easy to create and adapt. Interactive controls clearly emphasize the functionality compared to other options such as PDF reports and offer the viewer a greater degree of design freedom. Above all, the free tool is convincing due to the customization options with regard to the graphic preparation, so that reports can be tailored to the corporate identity of a customer, for example.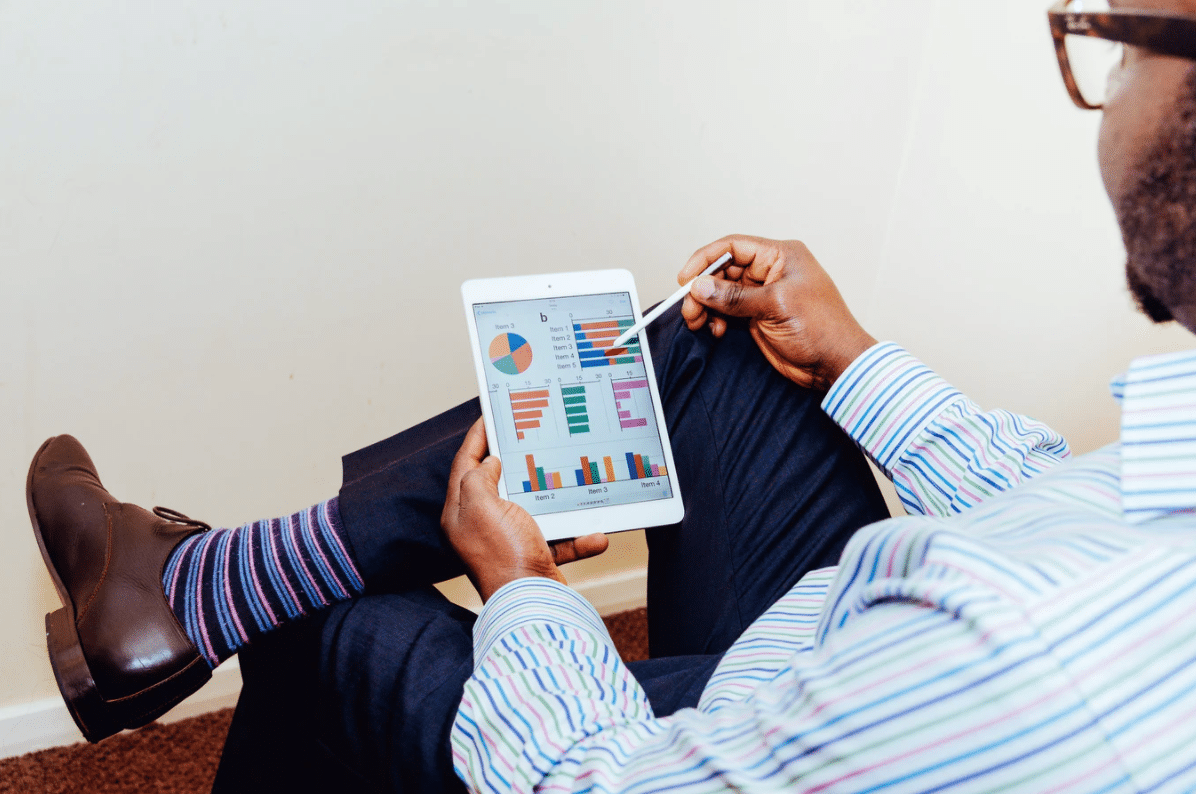 Would you like to use the potential of Google Data Studio for your company? We would be happy to advise you on this topic and develop a tailor-made solution for your case. Simply make an appointment with our Google Data Studio experts using the link below: https://searchperts.de/