Why are walnut shells bleached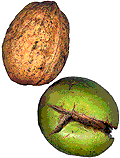 Walnut
scientific Surname:
Juglans regia
French: Noix, Noix de Grenoble
English: Walnut
Spanish: Nuez
Italian: Noce









Are you a wholesaler or distributor or do you just want to appear on our site?
Contact our advertising service
e-mail: [email protected]
Walnut

| | |
| --- | --- |
| Walnuts are still wrapped in a green, fleshy shell, which, however, cracks open when ripe and is removed after harvest. The light brown shell oxidizes easily, so the walnut is often bleached for a more beautiful appearance. | |
So do not worry if you stand in front of nuts with a dark shell. This is a sign that the walnuts have not been treated and they are by no means too old. Whole-shell walnuts can only be kept for a few weeks if stored in a cool, dry place, unlike other types of nuts, which can be stored for up to a year. Loose walnut kernels absorb oxygen and turn rancid after a short time.


The nutritional value of the walnut is 2738kJ / 100g (663kcal / 100g). It is rich in minerals, contains the B vitamins, vitamin C and provitamin A. They have a cholesterol lowering effect and are considered "vegetarian meat" due to their high nutritional value and important ingredients.
| | |
| --- | --- |
| water | 4,4% |
| carbohydrates | 10,6% |
| Proteins | 14,4% |
| Fats | 62,5% |
| Crude fiber | 6,1% |

| | |
| --- | --- |
| | Walnuts are easy to open at the seam with a nutcracker. The kernels are often still preserved as a whole and can be removed. Nuts have a wide range of uses as raw consumption, snack items, as an ingredient in salads and fruit salads. |
During the Christmas season, the kernels are a crispy addition to home-baked foods. The hollow walnut shells are suitable for Christmas tree decorations.

to the nutcracker test


| | |
| --- | --- |
| | Walnuts are available in stores all year round. Most of the offerings are presented at Christmas time. The USA delivers its fresh harvest from October, France delivers fresh walnuts from the end of September, and dried walnuts from November. |

| | |
| --- | --- |
| The walnut is native to southern Europe, the Caspian Sea, Japan, northern China and the West Indies. Nowadays the walnut tree can be found in all temperate regions. The main producers are the USA (California) and China, followed by Turkey, Ukraine, Iran and India. Large producers in Europe are France (the main cultivation areas are in the Périgord and around Grenoble: "Noix de Grenoble"), Greece and Italy. | |

| | |
| --- | --- |
| | The walnut tree (Juglandaceae) can be up to 30m high and forms an imposing, wide crown. The fresh walnut is enclosed in a green, fleshy shell that cracks open when ripe. The nut consists of two halves that are connected by a thickened seam. |
The amber-colored core is surrounded by a thin membrane that protects against oxidation.


Walnuts can vary in shape, color, and size, and the ratio of shell to core. There are soft and hard shell nuts as well as those with marbled shells. The big nuts are preferred for trade.



Cold pressing produces excellent walnut oil from the kernels, which can be used to season salads, for example.