When will OLED monitors replace the LCD?
LCD, LED, OLED & Quantum Dot - What's the Difference?
Future of display technologies
by Achim Hannemann, article from the archive
Which display technology will have the edge in the future: high-resolution LCD, LED, HDR, quantum dot or OLED? Our author and diploma specialist Achim Hannemann gives a lecture on the basics, the latest technologies and technologies in comparison.
---
The topics of this article:
---
Since ISE 2016, LG electronics has been pushing OLED displays in the professional and TV sectors through many marketing measures. Competitor Samsung also showed OLED displays, but has recently been using "Quantum Dot" technology. However, high-resolution LED displays with ever smaller pixel pitch were also on view at many exhibitors at various trade fairs and road shows.
The decisive arguments for market penetration will be: Resolutions higher than FHD, brilliant colors, high contrast ratio, achieved through higher black values ​​with more brightness and less energy consumption combined with a long service life.
Reason enough to backlight the various display technologies, research current developments and ask what the future display might look like. First of all, however, we present some basics of the technologies below:
---
More articles on display technologies
---
Which technology is winning?
It is difficult to say who will win the race in the monitor area in the future, as the various technologies are constantly being improved. Perhaps it is even a mixture, as presented last April: The HLED (Hybrid LED) contains organic and inorganic layers, is a combination of OLED and quantum dots, combines the flexibility of OLED with the stability of LED and that at low production costs .
The displays of the future have resolutions greater than 8K, brilliant colors, a high contrast ratio, achieved through higher black values ​​with more brightness and less energy consumption with a long service life and could also be printed on film or paper - and at today's LCD price level.
>> back to overview
Display trends
The product range of displays at ISE 2017 was almost unmanageable - also in the area of ​​large-format displays. We present the current display trends using product examples.
Displays are the mega-sellers when it comes to digital video display in public areas, retail or in private companies. Their diversity is correspondingly large. The trend is for interactive displays with "smart" whiteboard and collaboration functions, frameless modules for video walls and flat screens that are based on new display technologies. PROFESSIONAL SYSTEM introduces some new ISE models.
>> back to overview
Smart displays
Interactive whiteboards have been enriching the range of various display manufacturers for a number of years. A well-known representative here is, for example, the Big Pad from Sharp. Newly added are so-called collaboration functions that enable wireless presentations and the sharing of content from external devices - greetings from Microsoft Surface Hub ... NEC Display Solutions Europe presents the InfinityBoard, a collaboration board for video conferences, creative brainstorming in huddle rooms, presentations and the like . Ä. The board is available in two sizes. The hardware is based on a large format display measuring 65 "or 84" with UHD resolution.
The "InGlass" touch technology is intended to ensure seamless, paper-like touch performance. Users can write on the surface with a passive stylus and with their fingers. In addition to creating, commenting on and presenting content, the supplied whiteboard functionality enables the content to be imported and exported directly. With the new collaboration software, the InfinityBoard supports wireless presentations with interactions from display to device as well as between individual displays.
Thanks to NEC's own "MultiPresenter" function, you can connect your own devices within the scope of BYOD and stream content wirelessly from smartphones, tablets and notebooks. The combination of an integrated, software-controlled, high-resolution camera from Huddly with a viewing angle of 120 ° and high-end speakers from SEAS is aimed at use in video conferences. The InfinityBoard can be enhanced with the optional TeamConnect Wireless audio conference solution from Sennheiser. In addition, the height adjustability ensures that everyone can work comfortably with the InfinityBoard.
In addition, the equipment with the modular slot-in PC with Windows 10 makes you think of a competitor product to Micorosoft Surface Hub. The rollout in the DACH, UK and Nordics regions is to start in May 2017 and continue across EMEA from September 2017. ViewSonic announced the cooperation with Intel in matters of smart displays - together the two companies presented new Interactive Flat Panels (IFP) and digital signage products that contain Intel's SDM (Smart Display Module) at the ISE.
This specification is intended to replace the previous OPS - Open Pluggable Specification - and enable smaller, faster computers in plug-in card format that are integrated into the displays. The interactive displays from ViewSonic want to score with functions such as One Touch for Google Drive and allow the use of collaborative applications such as the instant messaging service Slack and the web-based project management software Trello. NovoTouch is the name of the new series of interactive displays from Vivitek, which are available in four sizes from 65 ″ to 98 ″ diagonal screens.
The interactive flat screens NovoTouch LK6530i, LK7530i, LK8630i and LK98301i offer Ultra HD 4K resolution and LED backlight technology, which should ensure evenly distributed brightness, a long service life and low energy costs. The display surface is glare-free for better visibility of the image content and is additionally secured with a 4 mm thick glass plate to protect it from damage. With 20 points of contact, documents, images and presentations can be edited at the same time.
Fingers, pens, gloves or the three interactive pens supplied can be used for this. The displays are also controlled interactively. The NovoTouch displays are preconfigured with the manufacturer's own NovoConnect technology. This allows up to 64 participants to be included, whereby the contents of up to four participants can be shown and edited on a display at the same time.
BYOD functionality is also included - the connection is wireless: Participants can present their content from a notebook, tablet or smartphone, NovoConnect recognizes the devices regardless of platform. The NovoTouch displays should be available from the second quarter of 2017. Other boards with collaboration functionality can also be found at Comm-Tec (Collaboration Hub), TD Maverick (Microsoft Surface Hub), Sharp and Sony, for example.
>> back to overview
Slim displays
This trend in LCD modules for setting up large-format video walls is not exactly new, but it is unbroken. Because it is the endeavor of the operators of video walls to show the content shown on them as possible without interruption by the frames - the better the illusion of a single large picture for the viewer. Unless the subdivisions are wanted - but that's a different topic ... Thanks to its LCD brand Planar, Leyard scores with a high-resolution video wall made of 4K displays that are supposed to have a bezel width of only 1.4 mm.
In addition to manufacturers such as LG Electronics and NEC, both of whom, according to their own statements, presented the thinnest frame display at the trade fair with a bar width of 0.9 mm, eyevis also had video wall modules with minimal bars in its exhibition portfolio. The 46 ″ and 55 ″ full HD monitors of the ESN series, which measure a mechanical bevel of less than 2 mm, were presented at the ISE.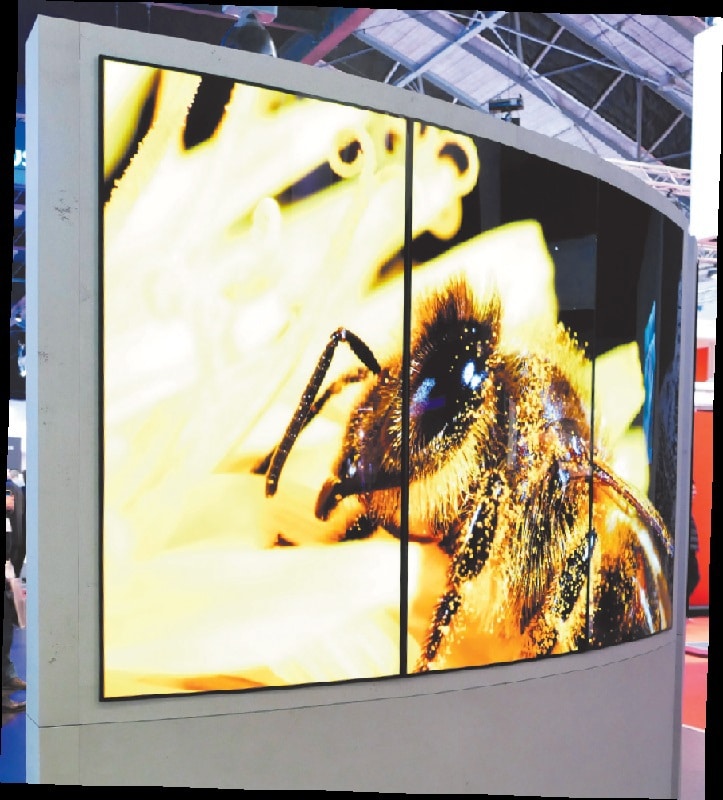 As the first "PRO" variant in the eyeLCD lineup, the 46 ″ device also offers the option of looping through 4K signals at up to 60 Hz. In addition, the user can control and monitor all eyevis monitors via network connections via a small separate unit, which is mounted on the rear of any display on the video wall.
With its PL series (PL490 / 49 ″ and PL552 / 55 ″), BenQ has full HD displays for setting up video walls with a narrow frame of 3.5 mm in total. The models offer OPS slots, support DisplayPort I.Ia and DVI as well as daisy chaining. "Slim" can also refer to the format of a display, which also includes the so-called "stretched displays". The elongated displays, which are reminiscent of banners or advertisements on public transport, were seen more frequently again at this year's ISE.
LG Electronics presented various stretched display models. For example, the 86 ″ model in 58: 9 image format can be combined to form video walls or tapes. Even the longest stretched model from LG with 88 ″ and an aspect ratio of 32: 9 is split-screen capable. In addition, BenQ has stretched models in its range of "Bar Type Panels", which are also suitable for displaying images in portrait format.
>> back to overview
New technologies for brilliant pictures
Even if Liquid Crystal (LC) still dominates as a display technology, specialist screens with other technologies are increasingly being seen, which promise excellent image quality in terms of sharpness, color reproduction and contrast. In addition, as extremely thin and flexible displays, they also enable "curvy" screen shapes. Samsung relies on the Quantum Dot technology, which has already been presented in the form of TV sets and was now being seen for the first time as signage displays at the ISE.
These "QLED" screens are basically structured like LC displays, but have a different backlighting technology. QLED screens offer a similar color brilliance as OLED displays and a higher contrast compared to LCD. In addition, according to the manufacturer, the new QLED displays are designed for 24/7 use. This year too, LG Electronics will focus on OLED solutions. This type of display technology does not require any backlighting.
On the one hand, with the "Flexible Open Frame", the company is presenting OLED displays with a flat, concave or convex surface. According to the manufacturer, the curvature can even be changed after installation. Another eye-catcher were the 65 ″ OLED displays with a curved surface that can be played on on both sides and which can also be combined. Each of these panels offers 4K resolution and system-on-chip intelligence (128 GB memory) that can replace a separate PC or media player.
The LG wallpaper displays are also based on OLED and score with a minimum depth of just 3.65 mm. The thin displays - like the 55 ″ dual view displays - could also be seen at Lang AG's ISE stand. The Lindlar-based company is the new distributor for the LG OLED Wallpaper 55EJ5C and the LG OLED Open Frame Wallpaper 55EF5C Display.
If you want to find out more about the Quantum dot and OLED display technologies, you can download the basics of display technologies free of charge.
>> back to overview
---
//[5213]
Keywords: AV technology, BenQ, display, display port, HDR, LCD, media technology, quantum dot display, system on chip, video technology, video wall, wireless