Do you know some of the advantages of the performance management system?
Properties of an effective performance management software
A company is only as good as the people it employs. For this reason, efficient management of employee development and performance appraisal is critical to long-term growth. However, as a manager, it can often be difficult to find time in your busy schedule to stay on top of individual performance reviews as well as KPI progress and goals.
In this case, performance management systems may be exactly your solution. Not only do they help streamline your processes, but they also manage your performance reviews and automate the steps as much as possible.
What is performance management software?
Performance management software is a user-friendly tool that helps companies better understand and manage the performance of their employees. It enables the HR departments to set individual and team goals that correspond to the goals and values ​​of the company and motivates employees to strategically develop their skills.
A good system for managing employee performance helps HR managers track and evaluate employee performance based on set KPIs, and provides employees with relevant training and professional advice. Solutions typically include progress monitoring, reporting, goal setting, real-time feedback, and recognition for improved performance.
While some believe it is time to depart from traditional performance management systems, the general consensus says otherwise. A good performance management solution helps HR departments to create and communicate clear performance goals for departments and individual employees. With this system, employees have a clear understanding of what is expected of them.

Key features of effective performance management tools
An effective performance management system has several key characteristics, including performance expectations, assessments, disciplinary guidelines, and recommendations. It encourages continuous development and guides managers so that they can identify, track and improve the performance of their employees. To get the most out of performance management software, companies should align the software with their fundamental business goals, culture and values.
If you do not already have an HR solution, you should invest in a performance management system. If your HR team spends a lot of time following up performance reviews, or if you still rely on manual processes based on Excel spreadsheets, digitization can definitely streamline your work. Performance management tools are also helpful to understand why, for example, there is a high turnover in your company or why employee targets and KPIs are regularly missed.
The best performance management solution offers:
Organization tools for simplification of the performance management process
Processes to manage employee performance for the individual development planning
further education. Assessment data can be used to design training programs tailored to the individual needs of each employee.
Career development tools to plan and conduct regular assessments that measure team member performance, identify strengths and weaknesses, and provide feedback for career development of employees
Data analysis. Regular reporting to help executives determine future organizational goals and assign promotions and bonuses
Talent management. Motivational tools to encourage and reward employees who continuously achieve their goals
Open communication channels between executives and team members
Benefits of implementing a performance management solution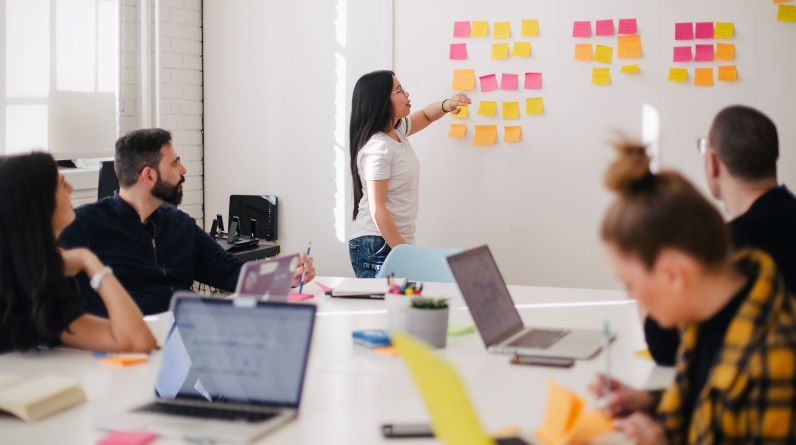 In addition to optimizing the performance management process, implementing a software solution in your company offers many advantages:
Simplified and optimized the process of performance appraisal so that you spend less time on paperwork.
You can use the software to track goals and monitor the performance of everyone on your team. This helps to highlight exceptional achievements and reward, and ensure hardworking employees feel valued for their efforts.
Helps leaders determine what training, resources, and actions are needed to improve underperforming areas
Improves communication between executives and increases employee engagement
Employees can receive regular feedback so they can improve their performance and contribute to the overall success of the company.
Employees can observe how their individual performance contributes to the overall performance of the company
Data analysis and regular reporting can Insights into the performance and engagement of different departments and identify opportunities for improvement
What is the best performance management system?
The best performance management system generates enough data to help a company identify where there are training gaps and opportunities for improvement. It promotes career development, increases employee morale, and helps HR departments develop strategies and create KPIs that are geared towards growth and success.
Managers need a software solution they can rely on. This is critical to efficiently monitoring individual employee performance and tracking growth in line with corporate goals. More than ever, companies are looking for an all-in-one solution. Performance appraisal software helps companies develop precise job profiles, identify Key Result Areas (KRAs) and implement programs that promote growth.
With Factorial's Performance Management System you can:
Use performance appraisal cycles to make strategic decisions based on reliable, qualitative data
Customize it to meet your company's performance needs
Optimize your performance management processes
Document and retrieve feedback at the push of a button
Centralize all your HR processes
The key to success
Once you have decided which performance management software is best for your company, the key to success is effective company-wide communication and setting clear goals that motivate employees to align themselves with the overall goals of the company.
Ultimately, the best performance management software is one that helps a company maximize team and employee performance. A good performance management system should continuously monitor and streamline the evaluation processes and give feedback in real time. This allows managers to focus on the performance and professional development of everyone on their team.
Manage and optimize your performance reviews with Factorial - Try now for free.
This post is also available in: English USEnglish UK