Arabs sexually exploit women
Violence Against Women: Welcome to Hell, ladies
A sexism-free time has been mourned since Cologne's New Year's Eve. There never was in Germany.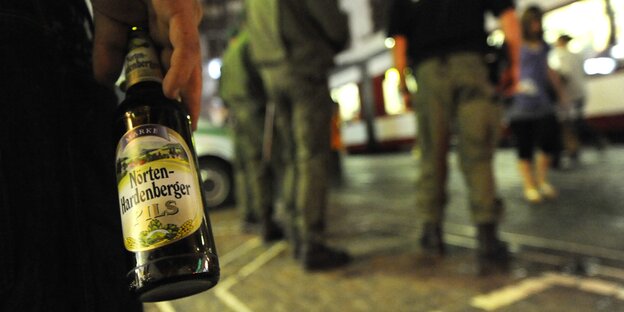 Male groups and alcohol: difficult combination. Photo: ap
Anyone who has ever been on the street as a woman at mass occasions such as New Year's Eve, Men's Day or Carnival knows that every encounter with alcoholized men is anything but a picnic. In most cases, this does not even require any constructed holidays. A normal Saturday evening stroll or a visit to some music festival is enough for such an impression.
So-called "violence-legitimizing masculinity norms", as the former Family Minister Kristina Schröder put it in her tweet yesterday, concentrate on what is worst and poison everything around them. Every activity in public space, every bus ride, every bar visit, every 500-meter walk to the apartment door is like an egg-run through hell.
Loud groups of people mean changing the side of the street, the mobile phone ready for emergency call speed dialing, keys placed in a brass knuckle between the fingers and a racing heart. Sexual assaults have normalized in everyday life, all of these measures have mutated into routine. Unfortunately, being a woman means having to live in constant fear of violence.
It's been almost three years since a group of feminists started the hashtag #aufschrei on Twitter. They wanted to break the taboo that still prevents those affected from openly dealing with experiences of sexism and sexual violence. The media coverage at the time reflected two different things: the collective need to talk on one side and the flattening ignorance of the culture of rape on the other. Instead of having constructive debates, journalists and entire editorial offices found it much more relevant to sink into fundamental discussions.
Pragmatic feminism
Is sexism still a thing in Germany in 2013? Have we not overcome patriarchy long ago? Is Gender Injustice a Myth of Underprivileged Women? And anyway: don't those affected by sexism and sexual violence really just want to grab attention? "The sexism debate" within mainstream media took place in a style that society should have abandoned by the middle of the 18th century at the latest.
The same Kristina Schröder, who suddenly threw around terms critical of rule, laughed at the initiative at the time. Before that, she published a book entitled "Thank you, we are emancipated ourselves: Farewell to the dictates of role models" and, like most of her CDU colleagues, is an example of anti-feminist politicians.
In the recent past, however, she has joined the imaginary "Feminism from the Right" club, in which Birgit Kelle, Erika Steinbach and Frauke Petry increasingly make underground statements against Muslim men and for alleged women's rights. As soon as the perpetrators are no longer their potential fathers, husbands, brothers or sons, but the bad men of color, the concern for the well-being of German women is very great.
"Ms. #Merkel, make d. Safety & order back! ", Tweeted Petry and mourned the sexism-free time in Germany, which never existed. Steinbach also claims never to have heard of sexual violence in public space before. "Because more and more women can no longer venture to any place at any time," she fears.
When she pointed out that it had been going on for decades, she replied: "When was there anything like it 20 years ago. Facts, please! "That she has been a Bundestag politician for 25 years: a gift. If you want to hide facts about violence, you can do it and only discover the patriarchy on New Year's Eve in Cologne.
New dimension of what?
Without a doubt: The crimes that occurred on New Year's Eve in Cologne were further evidence of how little power women have over their own bodies and how much they are exposed to male violence.
A group of organized criminals took advantage of the mess at the main train station to steal from several women, including sexually harassing them. At this point in time, the police had over 100 reports - some for theft, others for sexual assault.
On the other hand, hardly any information is available on the perpetrators. They are said to have been male and "North African", probably also drunk. How many there were now is not certain. Police say it could be three or 20, and some newspapers are bluffing 1,000 men who have fled.
We know just as little whether one of the perpetrators has a refugee background or where they come from (or, depending on who, that of their parents). There was only one thing they certainly weren't: blonde, blue-eyed, White. This small detail is irrelevant for the women concerned, the attacks were bad either way. For the public, however, this difference seems to be decisive.
If Birgit Kelle had written an indignant comment about the events on the Monday after the crime, if the perpetrators White would be? Would media coverage be so abundant if in the past every incident with high violence rates had received as much attention?
At Oktoberfest, the number of unreported rapes per year is estimated at 200 - and that does not include anything caught under sexual harassment.
Would the number of advertisements have risen so high if media attention had remained as low as it was in the past on New Year's Eve, Oktoberfest, Carnival or Men's Day? Here, too, one can only guess, but experience has shown that it would have been silent about the concerns of women. Experience has shown that women would not have been believed, they would have been told that they simply had to be tipsy, yes, what? Have been inattentive? Have sent "wrong signals"? Have imagined something?
Without statistics on attacks in previous years, it is difficult to determine whether this is a "new dimension of crime". One thing is certain: organized robbery in crowds - whether at tourist hotspots, in clubs or on New Year's Eve - is just as old a phenomenon as the number of sexualized attacks on those occasions. Whether on the Day of German Unity at the Brandenburg Gate, at the headliner of Rock am Ring or in the tent camps of the Occupy activists: men, alcohol and clear groups of people have always been a combination of hell.
Space for fear
Even with clear numbers, it is difficult to draw firm conclusions. Despite the many advertisements in Cologne, it cannot be said how many people were actually affected. One of the reasons why the number of unreported women affected is so difficult to determine is that it can be life-threatening for many to go to the police and file a complaint. This may be due to an unclear residence status, recognition of their female identity or past experiences with racist police violence.
If it weren't for the reproduction of the racist image of the innocent, white Woman who needs to be protected from the aggressive, Muslim man, these incidents would hardly go viral. Again the question arises: whose fears are taken seriously, whose are laughed at? The right-wing appropriation of feminism by Steinbach and the like goes so easily because the security of women can only be taken seriously if it is of use to their racist agenda.
Fear of the "masculinization of the street scene" is here synonymous with the demand for a freeze on male asylum seekers. Anyone who has ever been on the street as a woman knows that their masculinization was not just a problem since the jagged Islamization of the West.
It is not male refugees who maintain the rape culture, but rather the very selective hearing of those affected and victim blaming, as Cologne's Mayor Henriette Reker is now doing on the basis of rules of conduct for women à la "an arm's length away".
Right-wing populist pseudo-feminists are not part of the solution, they are part of the problem. Blogger Nadia Shehadeh aptly sums up on her Facebook page: "As long as the drunk men are of German origin, I can feel comfortable and safe with them."