How can you become a good tour guide?
Job as a tour guide
The job as a tour guide involves a lot of tasks, but first of all it involves a lot of questions. Do you want a job under the sun and learn a lot of valuable experiences for your life? Then read on and become part of the maxtours family ... # teamneongrün
Are you a born tour guide? - The self-check
Would you like to experience many new experiences and the perfect summer of your life? If you are thinking about working as a tour guide / travel companion, then do the self-check now. Find out if you meet all the criteria for a good tour guide:
Are you at least 18 years old?
Do you have a university entrance qualification?
Can you speak German and English?
Are you helpful and good with people?
Do you enjoy your work and also like to party with guests?
Are you tolerant and able to work in a team?
Are you good at dealing with stress and little sleep?
Are you resilient and always keep a clear head?
Do you know exactly your strengths and weaknesses?
Do you have at least 2 weeks (or more) time with you in summer?
Are you an open person who doesn't mind speaking in front of a large group?
Have an open ear for your guests, won't it be difficult for you?
Do you like to be the center of attention and are you ready for any fun?
And? Could you answer yes to most of the questions? Well, then you can read on 😉
I want to become a tour guide
Nice that you are interested in the job! Just like in the office clerk profession, there are of course a great many different types of professions. We differentiate here between Tour guide and Teamer.
Teamer
A teamer is used for supervised youth trips, e.g. for TTT youth trips. In a supervised youth trip, the teamer has full responsibility for his group of young guests. The age is usually between 14-17 years. The team leader takes over the entire vacation planning for the young people and is always on the go with them. Such supervised trips very often take place on campsites.
Tour guide
Unsupervised youth trips fall into the category of tour guides, just like with us. This means that the young people can decide for themselves what to do and when to do it in the event of an unsupervised trip. A tour guide is, so to speak, the party buddy for guests: a buddy and not the second mommy. Nevertheless, good customer service is crucial for the quality of a re-arranged trip (more on this at:The tour guide duties). Re-supervised youth trips usually take place in hotels.
The tour guide application
You have done the self-check and you are sure that you suitable for the job as a tour guide are? Then you can start thinking about your application now. But what should you write in an application to become a tour guide and what should you not? Here are a few tips from the maxtours seminar leaders:
We want to get to know you personally. So send us a nice oneprivate photo and not a classic application photo. Something you'd like to post on Instagram 🙂
In the application you are welcome to write what your hobbies are and why we should invite YOU to the tour guide seminar - convince us of you
Tell us exactly when you will be available so that we can see whether a cooperation can even come about
The more previous knowledge you have, the higher the chances of being invited to the tour guide seminar
Do you speak several languages? Then write that in your application!
Knock one out - after all, we are looking for horny and interesting people and not sleeping pills
If you are on our shortlist, we will send you an invitation to the seminar!
The tour guide seminar
If you are one of the lucky ones who made it onto the shortlist, you will take part in a seminar lasting several days (Friday afternoon to Sunday noon). The seminar consists of two parts. On the one hand, you will be prepared for the dream job "tour guide".
On the other hand, the seminar is also a casting. You will be observed and of course also judged by the seminar leaders. It might sound awesome, but it's necessary - for you too! Imagine you are overwhelmed with the job. But this only becomes apparent in the travel destination, 1000 km away from home. This is anything but nice and definitely not fun.
Speaking of which: The seminar will certainly not neglect the fun. Everyday life in summer is discussed with all the important points and tasks of a tour guide. You can prepare for the following points during the seminar:
Role play
Perform in front of a large group
Refreshing general language techniques
animation
Complaint management
Local knowledge and many other tasks will be taught to you.
You will learn pedagogical processes, rhetoric and the laws of the respective countries that could possibly affect you as a tour guide. During this time it is about proving yourself against other applicants and bringing your strengths to the potential new team. Of course, the resilience is also tested at the same time and so there is also a party or group work done late into the night. If you prove yourself suitable, then you will end up with a new tour guide band and nothing stands in the way of a great summer season.
The tour guide's duties
Before you go to a summer destination, you may well be able to oversee a bus trip. So you are there for your guests right from the start and you will certainly have to answer the first questions. There can be time delays during the journeys and you inform all guests and the office about the state of affairs. Fortunately, you learned these tasks in your seminar. In addition, every tour guide receives an information folder about procedures, telephone numbers and travel details on site. After arrival you will help the guests with the check-in and you will be familiarized with your tasks by the travel coordinator on site.
Now it means to be always friendly every day, to become the "buddy" of your guests, to sell excursions & club cards to the guests and of course to go out to party with everyone in the evening. The fun is not neglected and you also have enough free time so that you are not at your limit after two days;). If you think you already know everything about the job of a tour guide, you are wrong. This is just a glimpse of the job of a tour guide who has a lot more to offer:
Accompany bus trips
Welcome guests
help with hotel check-ins
Info meetings
Beachpoints
Help shape and take excursions with you
Create a funny evening program
Celebrate in the evening with the guests in the clubs
solve problems
So to sum it up in one sentence:
Give every guest the hottest summer of their life!
The guide rules
Anyone who thinks that you can behave like a guest is wrong. A tour guide's job is not to get drunk or flirt violently with guests. Experience shows that you have a special role as a tour guide - in other words: you are popular and the temptation is not infrequently great that many participants adore the tour guide. Of course, as a tour guide you are always cool with the guests and get on well with them, but remember: you have a role model function. If you do not adhere to these, there will of course be consequences! So it is important to behave. Whoever takes on this role "correctly" has one of the best jobs in the world! Promised!
The tour guide salary
The salary of a tour guide is often searched for in various forums and on Google. Here, as in many other jobs, you don't like to write about numbers in public. With a job as a tour guide, you have to be aware that you have no private costs and that you also learn a lot for your life. The experience will bring you benefits for a long time to come and is an important step in your young life for the future. So that you can better imagine what you earn as a tour guide, here are a few points that illustrate your salary:
Approach (arrival) and return
Accommodation and catering
Daily flat rate that is paid to you weekly
Maxtours shirts and hoodies
Free entry & free drinks in all clubs
Excursions (e.g. paintball, Barcelona, ​​beach party, catamaran party and and and ...) are free for you
You can get discounts in bars and restaurants
If you add up these points, you get several hundred euros per week. And you deserve that in the most beautiful places in Europe! Cool right? 🙂 You will also learn a lot for the rest of your life and you will get a tan. That is the opposite of the "demanding" working hours. If you're in the maxtours team, you'll soon know what you've earned 😉
"The tour guide job doesn't make you rich, but makes you happy" (Mäx, tour guide trainer)
Tour guide - seasonal follow-up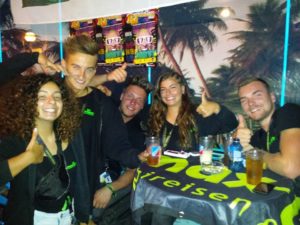 If you wish, you will also receive a job reference for your further professional path. Anyone who feels ready to do the job again afterwards is welcome for the next few years and becomes a team of the maxtours family 🙂
As a tour guide you will make many new friends and become a small family with all the tour guides in the respective destination. You will also learn a lot about yourself and will experience unforgettable moments. At the end of the season, we always hold a follow-up meeting for all tour guides.
So all right or what? 🙂 Then you can apply here to become a maxtours tour guide!
Back to overview
Was the article helpful? Then rate it with 5 stars!

Loading ...