Key rings are a good souvenir
Souvenir, souvenir: Popular holiday souvenirs
Why do you buy souvenirs? Quite simply because they show loved ones at home that you have thought of them even on vacation. It is most beautiful when you find things that are really typical of the country and that you can still use. Because we find small things bought quickly at the airport, such as a mini Eiffel Tower as a key ring "Made in China" or a colorful ceramic tile, you can really save yourself. Sure, now buying souvenirs is becoming more and more of a challenge, since you can buy everything almost everywhere in the world - but sometimes you can find something extraordinary that fits 100 percent to the person you want to give. So don't be discouraged and go on a hunt for souvenirs at your holiday destination. We have already collected a few tips for you. Holiday souvenirs that are guaranteed not to simply dust away.
How many vacationers bring something?
We found an interesting survey that provides information on holiday souvenirs. On behalf of American Express, 1,500 people aged 18 and over in Germany were asked in September 2015 how they feel about their souvenirs.
After all, every eighth person buys souvenirs for those who stayed at home on every holiday. Most of them, namely 89 percent, because they want to make you happy. Every tenth person only buys something because they still have money left in the local currency. And every fifth person also brings something with them out of a sense of duty. After all, you always get some attention yourself. The purchase is then gladly postponed until shortly before the end of the holiday. According to the survey, one in ten respondents quickly buys something in the duty-free shop before they return home. Five percent even only on the plane. Most of them take more time to choose. 66 percent buy in regional shops while on holiday, 55 percent browse through markets and bazaars.

What are those who stayed at home happy about?
Surely you've been to a market while on vacation. With so much on offer, it is not easy to make a selection. The sellers know what makes many holidaymakers' hearts beat faster. There are tables that bend under traditional costume jewelry, wood carvings, as well as belts and other small leather goods. Not to forget the imitations of designer glasses and handbags.
But what are those who stayed at home really happy about? Basically, you can assume that you are there. Your best friend will definitely like what you like. The least popular are porcelain figurines and dishes. 67 percent of those surveyed are not happy about that. Do you like miniature sights and key rings? Then you belong to a small group. Only nine percent of those surveyed said they would be happy about such a souvenir. Fridge magnets are somewhat more popular, namely with 10 percent of those surveyed. 38 percent of those questioned in the Forsa survey are happy about typical local food or drinks. A small pack of "Sal de Ibiza" from the Balearic Island, for example, costs only a few euros in the supermarket there, is useful and makes the recipient happy every time they cook. Or a small bottle of olive oil from Crete? Is also a nice memory for your vacation. You should only be careful with spices. Some of them are polluted. But maybe you can find a health food store on site? The female part of the population is also happy about a deliciously scented body lotion, shower gel or soap.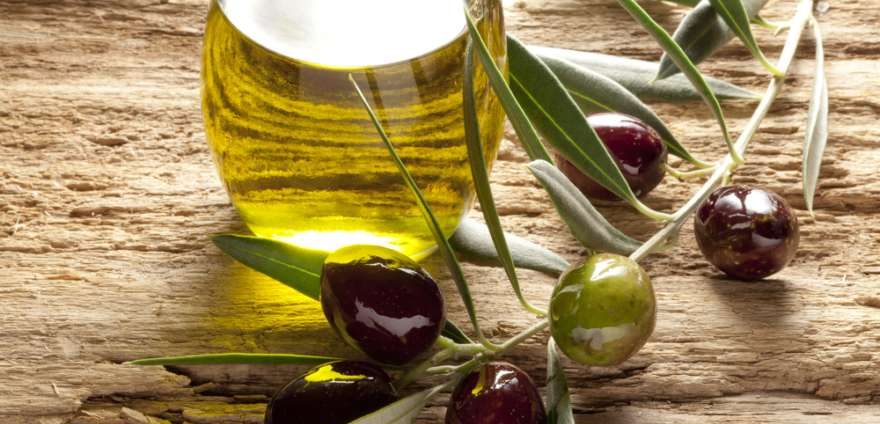 If you don't know which store to go to, ask your guide at the hotel. He knows the area very well. Sure, he'll be happy to help with a tip if you describe what you're looking for. Perhaps he even knows a nice shop off the beaten tourist track.
(Source: www.fvw.de)
What are the typical souvenirs from the most popular holiday countries?
Austria
It is not difficult to find the right souvenirs for those who stayed at home in Austria - the choice is really large here, no matter where you are in the neighboring country: If you are a guest in Salzburg, you must under no circumstances be without the world-famous ones Mozartkugeln Come home - it's best to buy the original from the Fürst confectionery. In Styria you should definitely have a bottle Styrian pumpkin seed oil to arise. This specialty refines every salad and may only be produced in this state. And you can bring a lot of culinary delicacies from Vienna anyway, from dried fruits from the Naschmarkt to a pack of coffee mixes with an original Viennese roast and a real Sachertorte. Leiwand!
►►► Travel tips for Austria
Italy
A souvenir from Italy? Here, too, there is definitely something culinary to offer. For example, if you are in Parma, you can buy Original Parma ham bring along, and in Modena you get the best balsamic vinegar. The most famous cheese in the world also comes from Italy - that's that Parmiggiano Regiano from the Emilia Romagna region. Do you prefer something for the garden? In Tuscany there is a large selection of terracotta pots that are really beautiful and conjure up a Mediterranean flair on the terrace. Of course, this is only possible if you are in Italy by car.
►►► Our Italy holiday guide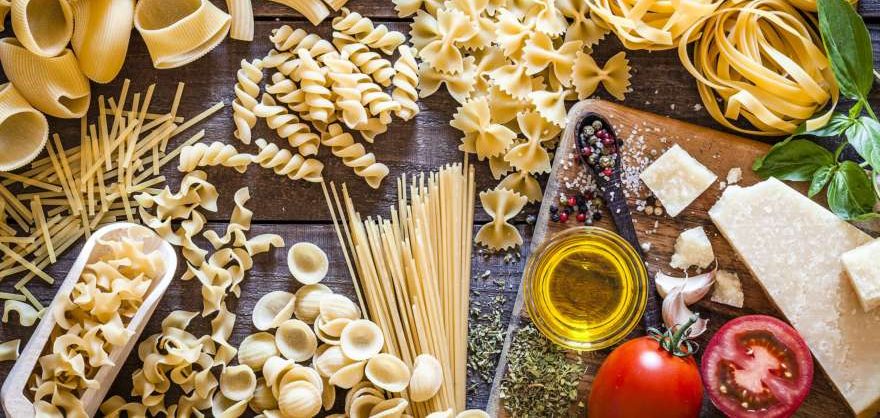 Another great souvenir: Italian pasta
Malta
A nice souvenir for the loved ones who stayed at home, and at the same time something typical for the island, is Maltese filigree jewelry. The art of making goes back to the Phoenicians, who spread this technique in the Mediterranean. The most famous motif is that Maltese crossthat serves as a lucky charm. The famous one also comes from Malta Maltese lacetraditionally handcrafted by Maltese women. The embroidery decorates tablecloths, napkins and also items of clothing. If you still need some inspiration: Just stop by the Ta 'Qali handicraft center near Rabat. It is located in an old aircraft hangar, where the artists not only sell but also work.
►►► Malta is so diverse - Our tips for a great vacation
France
If you are looking for a gift in France that is definitely not "Made in China", we can offer you the traditionally made Opinel knife recommend. The practical folding pocket knives are made in the Savoy region and are really indestructible. A useful gift that will accompany you forever at home or on trips. Are you on vacation in Provence and looking for a souvenir for grandma / mom / best friend? How about a bar of soap from the soap factory in Marseille? With lots of olive oil and no chemical additives that is Soap nice and mild and is even suitable for removing stains from clothing! Pretty sustainable, right?
►►► Holidays in France - you should know that
Greece
On your vacation you have surely noticed the men who sit in the coffee house and slide a small chain through their fingers. Looks like a rosary, but is called "Komboloi" and is nothing religious, but rather a toy. The Greeks use it for employment and stress relief. A great souvenir that can be bought for a few euros at the kiosk, but also as a high-priced premium version. It is also a popular activity Tavli. Everyone really plays that here, whether in the kafenion (the coffee house), at home or wherever. If you have friends or family at home who love to play backgammon, this is the perfect gift.
►►► Greece - land of a thousand possibilities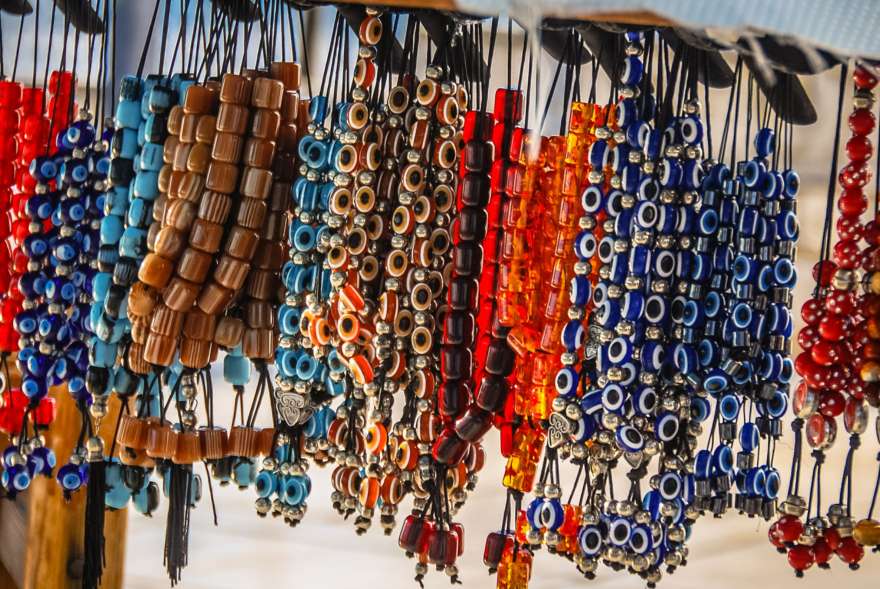 A souvenir for play children: Komboloi
Spain
Andalusia in particular is almost overflowing with great souvenirs. Here you will find first-class processed Leather goods, a lot of ceramic art, carving or carefully processed textiles.
The stucco work from Toledo is something very special. Decorating metal objects has a long tradition here. If you are traveling in Mallorca and still have space in your luggage, you should use it to bring home a bottle of high-quality olive oil. Preferably fresh from the oil mill. And in the Canaries you can get great wickerwork made from the Canarian date palm. Bags, mats or bread baskets - you are spoiled for choice!
►►► Spain - the land of diversity
Portugal
That is typical for Portugal cork, because this is where a quarter of all cork oaks exist in the world. You can find great products made from this natural substance especially in Lisbon and the Alentejo region, where cork production is at home. The best thing to do is to buy sustainably produced products from one of the numerous companies that specialize in them. The selection is huge and ranges from handbags to yoga mats.
Typically Lisbon, but something for the melancholy, is a CD with Fado music. This music is often played here in the pubs and is really cult. To go with it: a bottle of Port or Madeira wine.
►►► Portugal travel tips for the trendy travel destination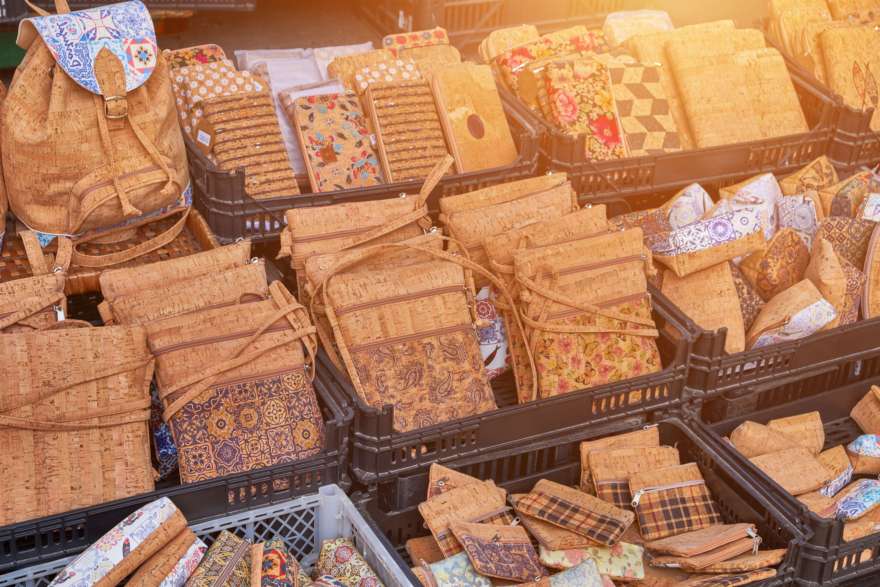 England
A souvenir from England? tea Naturally! And because it's prettier, it can be given away in a colorful box with typical English motifs. Who can tolerate kitsch: The versions with the likeness of Prince Harry and Meghan are very current. A pack of shortbread and orange jam also goes well with it. The ladies who stayed at home are sure to be happy about cosmetics from Crabtree & Evelyn or Lush. Heavily hip and cheaper than ours. Do you want to give gifts to garden lovers? Then make a detour to the garden center, where you are sure to find extraordinary plant seeds that the English use in their carefully landscaped gardens.
►►► The land of the three seas - travel tips for England
Turkey
It hangs all over Turkey and is therefore a typical souvenir: that turkish eyethat serves as a lucky charm and protects its wearer from the evil eye. The gem is also available as a larger version for the front door of an apartment or house. The spices from the market are always popular with amateur cooks. Anise, cumin, karadmon, or even one that simply smells good and is rather unknown in Germany. Tip: Go where the locals buy, because the quality is sure to be right there. A souvenir for caffeine junkies: Turkey has one of the oldest coffee cultures in the world. Hence one is traditional turkish coffee dishes a nice idea. It always consists of a brass or copper cup that has a saucer and a lid.
►►► The diversity of Turkey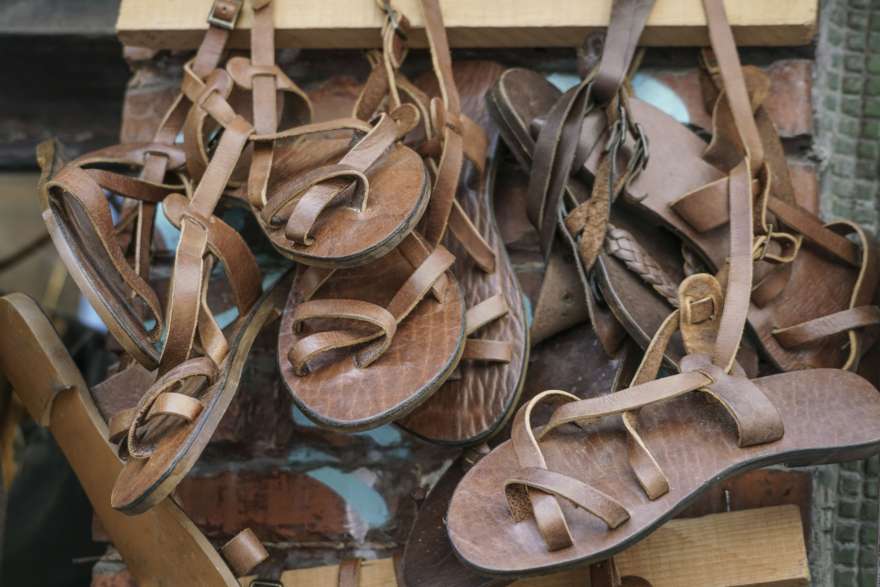 A high-quality souvenir: leather goods from Turkey
Cyprus
Cypriot Brandy, sherry, sheep cheese, thyme honey - sounds good, doesn't it? You can either eat it yourself or bring it to your friends and family at home. In addition to various culinary delicacies, the island also offers a lot of Cypriot folk art.
The hand-painted icons, which you can buy directly from the painters in Limassol or in one of the many monasteries on the island, are particularly popular. The hemstitch embroidery on tablecloths, serviettes and handkerchiefs are also traditional souvenirs. They have been made in Cyprus for centuries. If you are not into embroidery: there are also chic ones Leather goods to buy. How about a nice belt?
►►► Tips for Cyprus - the island with guaranteed sun
Croatia
If you want to really spoil your loved ones at home with culinary delights, bring them a basket with delicacies from Croatia. These things should definitely be in there: a piece of the delicious air-dried pork ham prsut, olive oil from Istria or Dalmatia, sage honey from the island of Korcula and sea salt from the salt pans near Pag (Dalmatia). And so that the throat does not get too dry when enjoying these delicacies, a bottle of Malvazija or a regionally produced red wine must be packed with it. Perhaps you would rather choose one of the numerous lavender products from Croatia? Then take a pretty lavender bag for the wardrobe or simply a versatile lavender oil.
►►► The best sights in Croatia
Morocco
Since Morocco is a true souvenir shopping paradise, it will certainly not be difficult for you to find something here. Especially interesting for the ladies Argan oil, which we mainly use as a cosmetic product for skin and hair. In Morocco you can get this wonder drug with a rose or citrus scent in many shops and at spice stands.
Trendsetters are sure to be happy about cool ethnic accessories, such as a leather bag in boho style. Colorful cotton cloths that protect your head from sand in the desert and are guaranteed to attract attention at home are also inexpensive, practical and easy to transport on the plane.
►►► Holidays in Morocco - Our travel tips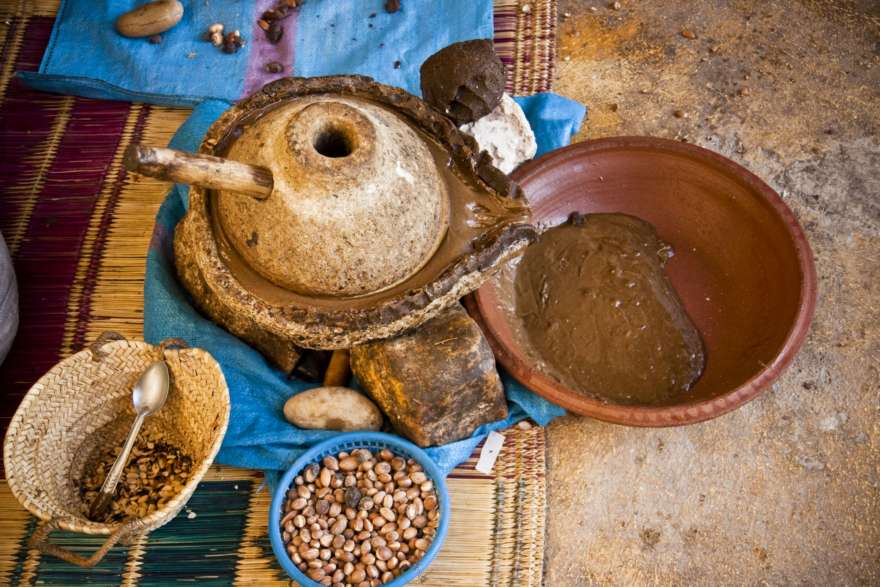 Exciting: Take a look at how argan oil is made
Egypt
The scarab has been a symbol of life in Egypt for many centuries. Allegedly, scarabs, dung beetles, used to recognize the impending flood of the Nile and were therefore revered as good luck charms. A scarab jewelry pendant is a popular souvenir, because everyone can need luck, right?
Egypt is also known for its cotton production. That's why you can also get great towels, scarves or clothing here. How about a traditional Galabeja? The long, shirt-like garment with wide sleeves is an airy, comfortable item of clothing to make yourself comfortable at home. Other nice souvenirs: traditional perfume oils or spices.
►►► Tips for your Egypt vacation: regions, excursions and water sports
Arabian Peninsula
There is almost no limit to the number of shopping opportunities in Dubai in particular. It should be easy for you to get hold of a few souvenirs. The selection of shops is huge - there are over 50 malls in Dubai alone! How about one Gold chain? Real jewelry is much cheaper here than with us, as taxes and processing costs are lower.
There is also a large selection of clothing, but you should be careful not to get fakes. Then maybe something sweet? Camel milk chocolate or date pralines are definitely a good tip. Hobby cooks who stayed at home will be happy if you bring them a small selection of exotic spices.
►►► Dubai holiday guide: information and tips that not everyone knows

Significantly cheaper than ours: gold jewelry
United States
Are typically American Football or baseball shirtswith which you can certainly please the male folks back home. This is a useful gift for all bakers Cookie scoop, with which you portion biscuit dough into balls so that all biscuits are the same size when baking. They can be found cheaply in every well-stocked household goods department. Bath & Body Works products are also popular. Here you will find nicely packaged, stylish little things from cosmetics to flavored candles. What always goes down well, of course, are crazy sweets, BBQ sauces or unusual baking mixes. Just browse through the supermarkets, where you are guaranteed to find a lot of products that you can't get from us yet.
►►► Unique nature and megacities: Our USA travel tips
Cuba
Cuba is closely linked to the revolutionary Che Guevara. It goes without saying that you can hardly avoid buying at least one T-shirt with your likeness as a souvenir. Or would you prefer a CD with salsa music for your best friend? Spices up many a dreary winter evening. There are also really beautiful handicrafts in Cuba. If you stroll through Calle Obispo in Havana, you are sure to find something suitable!
Not exactly the healthiest souvenir, but simply cult: an original Cuban cigar, like the Cohiba or Monechristo. It's best to buy them in a cigar factory and not on the street! Always possible: The Cuba classic Havana rum.
►►► Cuba travel tips: Between nostalgia and dreamy seaside resorts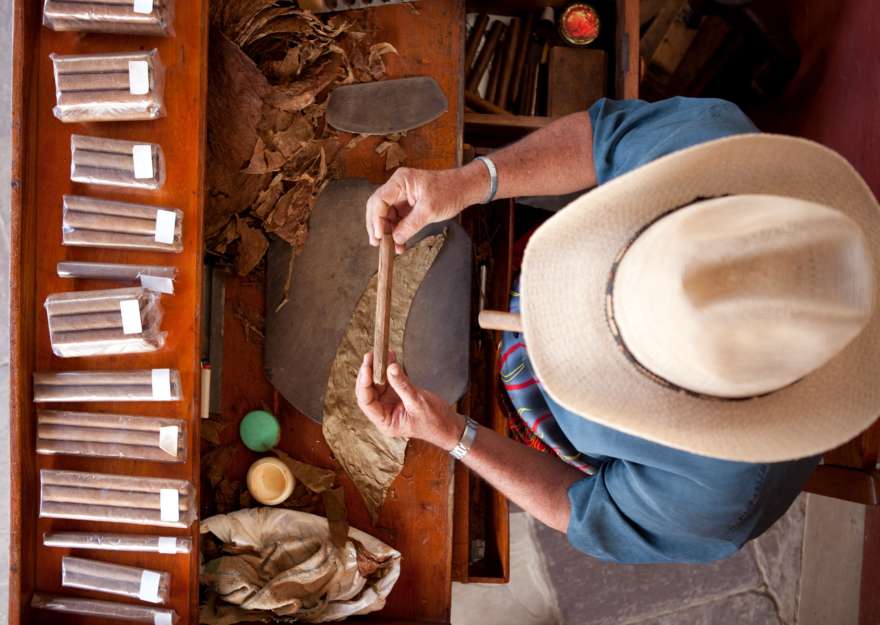 Australia
In the Aboriginal Art Galleries or the Aboriginal Cultural Centers, you are guaranteed to get one made by indigenous people Boomerangs, didgeridoos or other handicrafts. Your souvenir has only been completely made in the country if it says "Product of Australia". Traditional headgear is useful Akubra. The wide-brimmed hat protects against sun, wind and rain. The good piece is best available in a hat shop or at an outdoor outfitter.If you want something particularly precious: Australia is known for its pearls from the Broome region in Western Australia and the opals from the interior, especially from the city of Coober Pedy.
►►► Holidays at the other end of the world in Australia
South America
There are tons of very different souvenirs in South America, from Brazilian flip-flops to blankets from Lima. What can be found in many South American countries is original Mate tea. A cheap and hip souvenir. The best thing to do when buying a tea is to seek advice on how to properly prepare the tea traditionally in a tea shop or at the market. If you are traveling in Peru or Bolivia, you could look for textiles Alpaca wool Keep an eye out - a special, long-lasting gift. Much cheaper and originally South American: the spread "Dulce de Leche". Tastes like caramel and is, so to speak, the Nutella of South America. And from Colombia? A pack of coffee from the local coffee house chain Juan Valdez.
►►► The most beautiful diving spots in South and Central America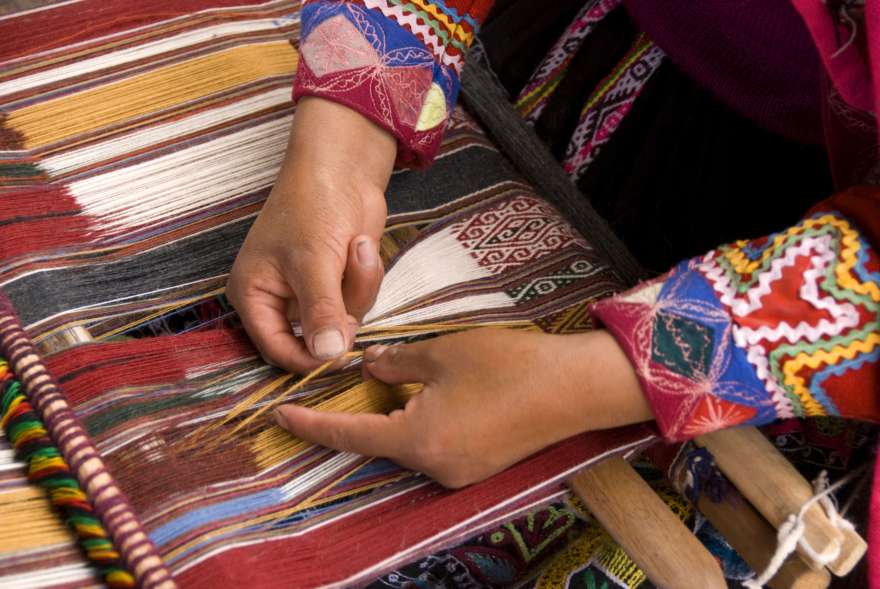 Colorful, colorful, souvenirs from Peru - the beautiful alpaca wool is available in all colors
Africa
A wide range of handicrafts awaits you in Africa. The Wire Art objects from South Africa, art made from wire ropes, which mainly come from the townships and rural areas, are particularly beautiful. There are tons of famous wineries in South Africa too. Sure you can the ones who stayed at home with one bottle of wine delight directly from the place of origin. Or - completely alcohol-free - a pack Original roibo tea? The African towels are versatile and easy to transport. Also work perfectly as a curtain, tablecloth or wrap skirt.
And great accessories for the ethnic look are bracelets, chains or earrings.
►►► Advice for your vacation in South Africa
Asia
Asia has been known for making silk for centuries. So how about a hand-woven one Silk scarf as a souvenir? Or a kimono from Japan? A couple of handmade, beautifully decorated chopsticks. If that's not enough for you, you can take a sushi set from Japan with you. A Thailand souvenir for the beauty-conscious people who stayed at home: Real coconut oil from the pharmacy that can be used for skin and hair care. And for those who are already short of time or money: Buy dried fruit at the market. Simply put papaya, mango or lychee everywhere - tastes good and is also healthy!
►►► Destination Thailand: something for every type of vacationer
…
Please wait a moment.
The picture quiz is loading ...
Service2018-12-20