How do I replace drum brake linings
BMW 5 Series Repair Instructions :: Replace brake pads for drum brakes
Model "e12" (4-cylinder and 520/6 to 7/81)
Glued linings must be replaced with brake shoes; in the case of riveted linings, only the brake linings are replaced. attention: if you lack experience or tools are not available, have work carried out by a specialist workshop.
Danger: Always replace all linings on an axle, even if only one lining is worn or damaged. Use only BMW spare parts pads of the same quality.
Drill rivets for brake linings with a suitable drill and remove them from the brake shoes with a punch.

Remove the linings from the brake shoes.

Clean the brake shoes well on the contact surfaces, but do not apply any adhesives or other agents between the brake linings and the shoes.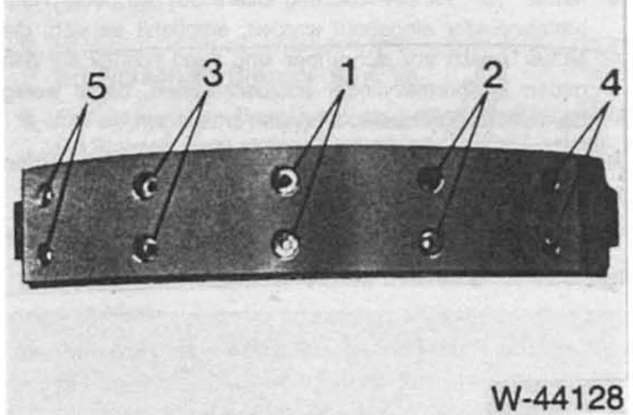 The new lining must fit perfectly on the brake shoe and must not protrude from the side. Insert the rivets in the order 1 to 5, see illustration.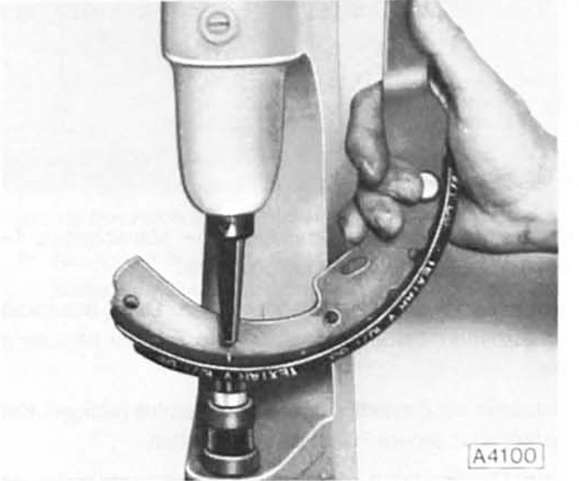 Rivet the coverings with the appropriate tool.
Install brake shoes, adjust rear brake.
See also:
What you need
In order to avoid rattling noises later, please note the position of the required tools and fix them in their original position after use. Wheel chock * Jack * Wheel wrench * The tools ...
Hose routing 4a1 carburettor
Attention: the carburetor is shown on the bmw 520. On the 525, the carburetor is rotated by 90 on the intake pipe; the connections are the same. In addition, the thermopneumatic valve - 8 - is only built into the 520 to 3/78 models, so the piping is ...
Overhaul wheel brake cylinder
Remove all brake drums and brake shoes with rear drum brakes. Loosen nut - 3 - for brake line. If a new wheel brake cylinder is to be installed, we recommend ...
The braking system
The hydraulic foot brake system consists of the master cylinder, the brake booster and the disc brakes for the front and rear wheels. The following models have ans ...