Don't worry (CD card) (motif Spatz) Matthias Fruth
Free shipping (DE) from € 20, - Order hotline: 0 74 56 – 93 93-0
information
Bookstore cap-shop open! Mon-Fri from 9:00 a.m. to 1:00 p.m. and 3:00 p.m. to 6:00 p.m. Saturday 9: 00-12: 00. Without making an appointment or taking a test. Orders and inquiries by phone or email: 07456-9393-0 / email: [email protected]
Goods from the bookstore can also be delivered by mail! We ship daily. Inside D:
Shipping costs only EUR 2.95! From order value EUR 20, - no shipping costs.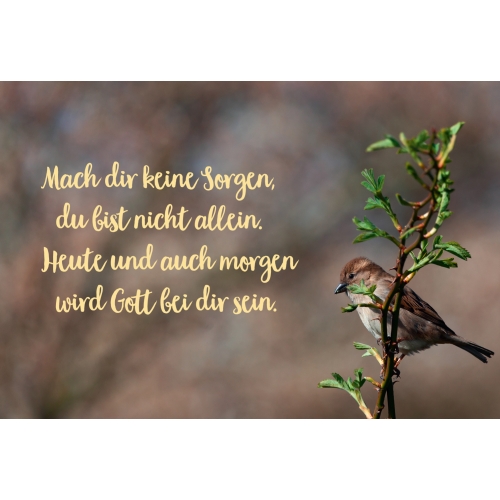 Matthias Fruth
---
Information about the article:
| | |
| --- | --- |
| Execution: | CD card |
| ISBN / EAN: | 4045027402341 |
| Article no.: | 5240234 |
| Publishing company: | cap-music |
€ 4,20
all prices incl. taxes. and plus shipping costs. From € 20.00 no shipping costs!

---
Four-sided CD card with the encouraging new song "Don't worry" (text and music: Matthias Fruth). Complete with envelope, lyrics, sheet music and mini CD in a foil envelope.
Also available as a text card (without CD).
250x don't worry - letters from heaven
The story of the song
Sometimes you want a greeting, an encouraging word, a sign or even a letter from heaven ...
You can find the story of the song as a reading sample, please click reading sample.
---
Don't worry, you are not alone.
Today and also tomorrow God will be with you.
God knows your fears, he knows how you're doing.
You can trust him because he understands you.
1. See the birds under the sky how they slide with the wind,
without fears, without worries because they are in God's hands.
Heavenly Father cares for them every day ...
Complete text in the CD card or text card.
---
Audio samples
---
Reading sample
---
Customer testimonials
Still no Customer voice available.
---
Write a customer testimonial
---
our recommendation
---
Article by Matthias Fruth
---
Write a customer testimonial
---
> back
---
---