Can a VR gamer damage your eyes?
AR contact lens Mojo Lens: what it can do and when it comes
Mojo Vision wants to make a great future vision of the AR industry come true: A tech contact lens that digitally expands the real world. I talked to Mike Wiemer, head of technology and co-founder.
Mojo Vision worked on a tech lens for around five years before the company first appeared in public in November 2018 - with ample tailwind from an investment of 50 million dollars. According to Wiemer, the actual research and development around the idea of ​​a tech contact lens had already started ten years earlier.
It wasn't until the beginning of 2020 that the start-up officially made what was previously only hinted at: Mojo's big product is a smart AR contact lens that already exists as a prototype. Why the secrecy?
"We weren't allowed to say anything until we were sure that it would work," says Wiemer. "It was exciting - and frankly a relief - to finally be able to talk about it, and it was finally easier for us to talk to potential customers, partners and investors."
Most recently, Mojo Vision succeeded in a decisive maneuver: It won the Japanese contact lens manufacturer Menicon as a partner.
Wiemer describes the cooperation as a "big step" and a "critical component" of the strategy development for design, manufacture and marketing. Together with Menicon, Mojo Vision now wants to pick up speed and bring the first smart contact lens to market readiness.
Investor Millions: Pressure and Motivation at the Same Time
Mojo Vision's investor capital now weighs around $ 150 million. Wiemer knows that enthusiastic investors are no guarantee of success for a long time. Of course, he knows stories like Magic Leap, the highly regarded AR start-up that promised unprecedented technology and didn't deliver. In 2020 Magic Leap scarcely missed total bankruptcy - despite previous billions in investments by corporations such as Google and Alibaba.
"Our fundraising success is pressure and motivation at the same time. Developing the first true AR smart contact lens and all of the breakthrough technologies it requires is no small feat, "says Wiemer.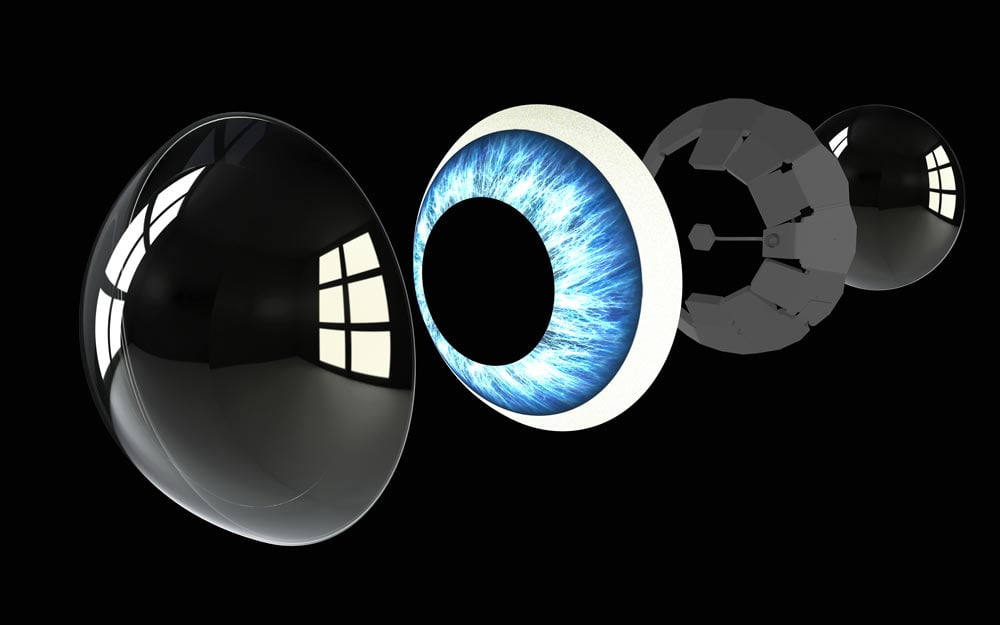 The mojo lens consists of several layers. Among other things, sensors for motion detection and an image sensor are integrated. | Image: Mojo Vision
However, he is convinced of the daily progress and that the first Mojo Lens will successfully cover the long way to product maturity: "Many people believe in us and the potential of our platform."
This technology is in Mojo Lens
According to Wiemer, the current prototype can display text, graphics and videos - all common formats. Since the contact lens projects directly onto the retina, it works even if you close your eyes. According to Wiemer, it is controlled by eye movements, so that the display can be deactivated at any time.
The heart of Mojo Lens is a MicroLED display with a pixel density of 14K. According to Wiemer, this is the smallest display with the highest pixel density that has ever been built. It was designed from the ground up for the contact lens and is roughly the size of a grain of sand.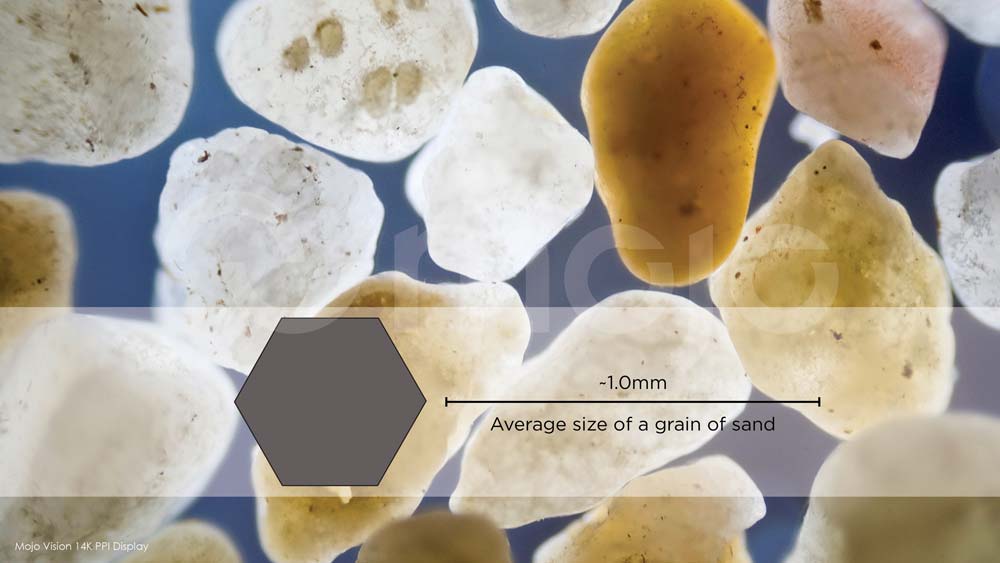 The Mojo Lens display is smaller than your average grain of sand. | Image: Mojo Vision
In reality, the eye is constantly re-focusing on different levels. The prototype does not support these numerous focal planes, the lens image is displayed consistently sharp - whether one is looking into the distance or looking at an object nearby. Everyday life will show whether that bothers you.
Motion sensors are also integrated into the lens, which stabilize the image and determine the position of the lens in relation to the body and head movements. Image sensors perceive the ambient light and adjust the brightness and contrast of the lens.
The image sensor should also recognize scenes and be able to use it for object recognition, for example. A mojo lens wearer with visual impairment could thus be supported in everyday life with audio cues, for example, if they are looking at a certain object but not immediately recognizing it.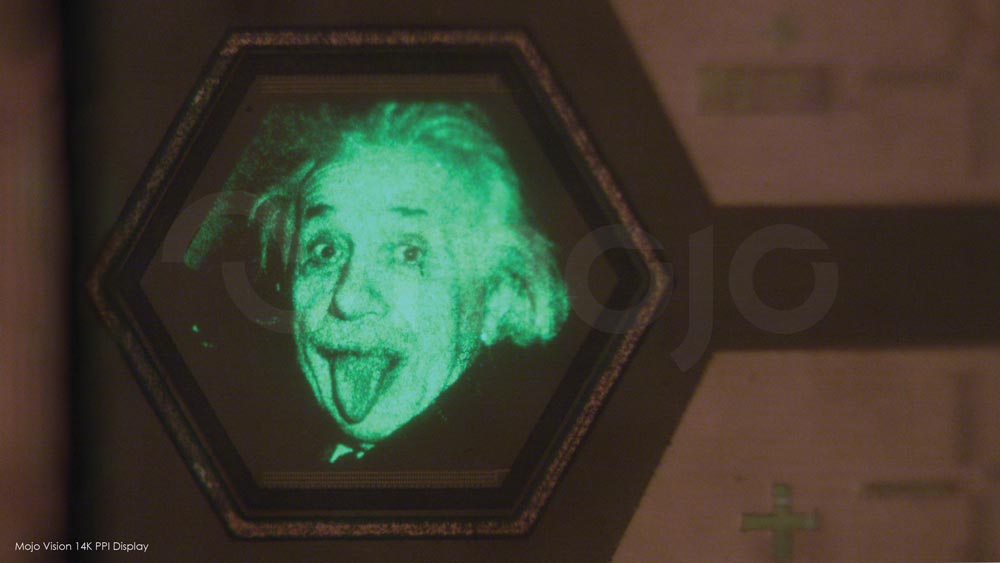 Look at the mini display of the mojo lens: it's as small as a grain of rice. | Image: Mojo Vision
Mojo Lens is currently powered wirelessly. In the next prototype, a battery is placed as a thin film on the lens. It should offer enough power for one day.
Everyday convenience: lenses beat glasses
AR glasses are slowed down by the form factor: Even comparatively slim glasses such as Nreal Light (test) are still too bulky for everyday use. It is not yet clear how much tech glasses can be made smaller.
Wiemer's position, on the other hand, is: "In order for AR / VR to spread further, we have to remove this physical barrier from bulky glasses that obscure the face and eyes or the peripheral vision."
The goal of Mojo Lens is "Invisible Computing", that is, a computer that, as a contact lens in the eye, fits completely invisibly into people's everyday lives.
"We want to give people direct access to useful information without the visual distraction or the inconvenience of glasses," says Wiemer. "We believe that contact lenses are the future of wearable computers."
Wiemer is convinced of Mojo Vision's plans, although even corporations like Google, Facebook or Apple have not even been able to build slim AR glasses, let alone useful tech contact lenses. Where does Wiemer get this conviction from?
"Because we built and carried an early prototype. Our first prototype was carried by more than ten Mojo employees, "says Wiemer.
The project is "not an easy thing" and still needs some time, but: "We are at a point of development where we have more years behind us than are still ahead of us with a view to the first product."
Mojo Lens development: from vision amplifier to VR device
In the first step, Mojo Lens is intended to make everyday life easier for people with poor eyesight, according to the plan. The digital contact lens is intended to emphasize edges, increase contrast or enlarge text.
"Mojo Lens gives people a better map of the environment, objects and people around them," says Wiemer.
Wiemer also sees a benefit in the job: workers could improve their performance with digital information in their field of vision. In everyday life, Mojo Lens wearers could show information without having to constantly tilt their heads towards their smartphones.
"Mojo Vision is designed to show relevant, helpful information and only when you need it," says Wiemer.
Even VR gaming is a potential field of application, as the images on the contact lens are still visible with the eyes closed. So instead of putting on bulky VR glasses, you would just have to close your eyes for a VR game. But that's a dream of the future: Mojo Vision's focus is on a first product for the medical sector.
Sci-Fi-AR: Not yet an issue for Mojo Vision
Wiemer does not even want to talk about future AR visions such as 5G content streaming or a digital reality in Blade Runner style: "We are currently designing and designing Mojo Lens and building prototypes. It's too early to deal with such futuristic details, "says Wiemer. Numerous innovations are already built into the lens.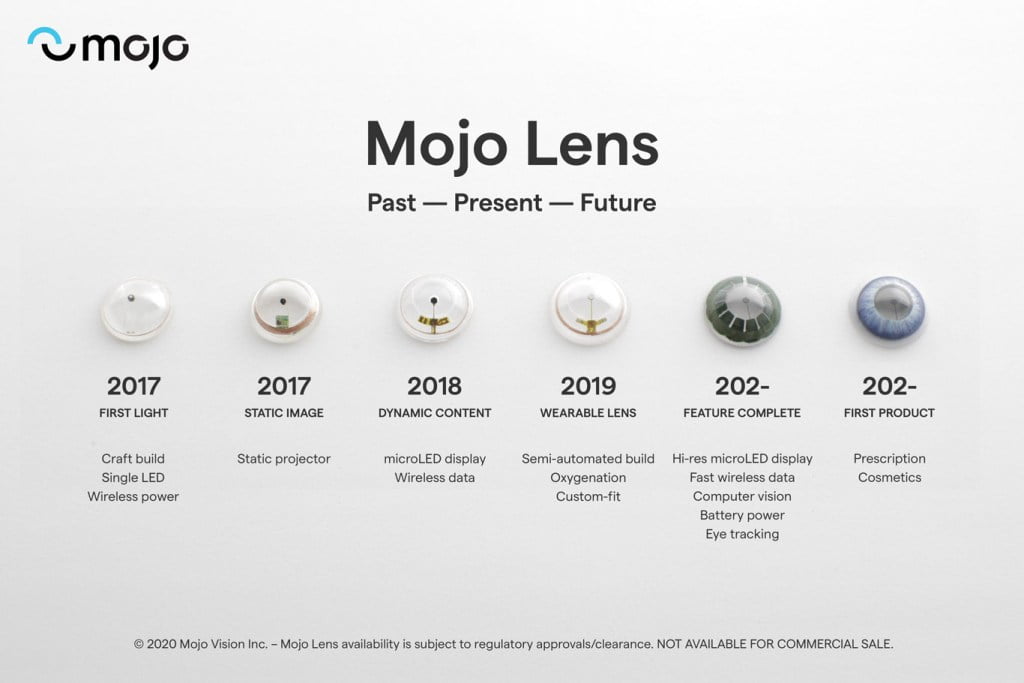 Mojo plans to launch its first commercial lens in the next five years. | Image: Mojo Vision
In addition to advancing the technology, Mojo Vision is currently focused on obtaining medical approval from the US Drugs Agency. There, the start-up is in the program for "pioneering technology with great impact", which could accelerate approval. Because the tech contact lens is also considered a medical device.
The market launch for Mojo Lens is initially planned for the USA in the coming years. After that, Mojo Vision wants to expand. The exact timing also depends on the pace of the regulatory authorities.
Read more about Augmented Reality:
steady2
AR contact lens Mojo Lens: What it can do and when it comes was last modified: January 25th, 2021 by Matthias Bastian
MIXED.de Podcast: VR, AR and KI - new every week
Listen now: All episodes
Note: Links to online shops in articles can be so-called affiliate links. If you buy via this link, MIXED.de receives a commission from the provider. For you, the price doesn't change.