Feel free to draw or paint
Painting is fun - and smart!
Express experiences and feelings with pictures
"Here, for you!" - Another new work by my daughter. And once again she painted our courtyard. Front door, two windows, roof, chimney, garden fence and a box for the stable. The tenth version this week. Somewhere on the kitchen wall there must still be a place for the work of our seven-year-old, who would otherwise be bitterly disappointed.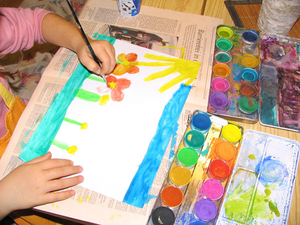 The result when painting is initially not important.
Photo: Thommy Weiss / pixelio
Nowhere is there so much creative power shown as in children who paint. Colored pencils become toys with which they train their motor skills. Later on, whole miniature worlds emerge in which the little ones unload all of their creative energy. For children, painting is like reading, because it actively encourages creativity. Just as the world arises in their heads when they read, children create their own personal work when they draw and paint. And because it is an expression of their personality, parents naturally have to hoard everything they put on paper, whether with the help of a magnet on the refrigerator door or in a folder. The development of creativity is an individual process and is different for each child. Every little artist paints at their own pace and learns through their own experiences and efforts. The pictorial statement becomes more differentiated the more consciously it looks and perceives. When your child paints or draws, they learn to understand their world better. It processes feelings and events and at the same time trains imagination and creativity.
Painting and drawing are ideally suited to promote motor development and creativity and train perception.
Painting helps to deal with everyday life
No matter how "well" the child can paint - there is no other "toy" that children can better express their experiences and feelings than with pictures. Children's pictures have a great charm and it is wonderful to watch how enthusiastically the little artists work with the paper. In a playful way, imagination, talent and fun in your own creative design are developed. In pictures, children are themselves - and all they need is paper, crayons or wax pencils and an ink box with brushes.
Painting lets calm return
How to encourage your child to paint:
Little artists need the right equipment: pens and paints should be of good quality, stable and water-soluble. Blackboards are also recommended, where the children can let off steam and train their motor skills with chalk. The smaller the artist, the coarser and more manageable the drawing material should be. A flat cardboard box or a discarded cup is ideal for storing crayons and crayons. Materials such as cardboard, foil, Japanese paper or watercolor paper are interesting materials for children. Unusual formats are also fun for children.
A walk in nature promotes perception: colors, shapes, smells, patterns and sizes can be recognized in this way. Intensive seeing and perceiving requires time, patience and calm. A visit to a museum can also be stimulating: Take a look at the works of great artists like Picasso or Miro with your child!
Every now and then, clean paint boxes, paint cups, brushes and pads so that the child can paint and mix with clear tones. It is sufficient to wipe the surface with a sponge or damp cloth.
Collect the children's pictures and hang up some nicely framed. They look decorative on every wall and give the child appreciation, pride and self-confidence. You can safely do without exaggerated praise

Last but not least, the nice thing about painting for children is that they can come to themselves and above all to calm down and sink into their very own world for minutes, sometimes even longer. In a well-planned and hectic everyday life, that's a lot. Try reading a story to your child and have them draw a picture for it: Hear and experience things are processed even more intensively!
Painting allows feelings
When it comes to painting, parents and children often have different ideas: Parents often want their children to be happy, giftable pictures. Then it says: "Have a look at a few animals" or: "Watch out, the color runs" - adults have simply internalized that at the end of the act something useful and presentable should come out. Not so for children: Especially when they are still small, painting has a completely different function: The focus is not on mastering a certain painting technique, but on expressing sensations, reacting to tensions. When children paint, they tell stories. Example: Four-year-old Sophie first paints a little girl, then the friends join in, the house and finally a cake: Sophie is looking forward to her birthday and imagines the celebration. Sophie painted this exciting story and is happy with it. When her mother looks at the picture, she only sees a large blue-black spot - Sophie has painted all the episodes on top of each other - so children have a completely different idea of ​​a successful picture than adults. Therefore: be careful with suggestions for improvement and criticism! Never inhibit spontaneous creative joy through misunderstood ideals of beauty or too many specifications or comparisons!
Painting promotes imagination and the ability to concentrate
Painting promotes creativity. By painting, the child can and should let their imagination run wild. When it comes to painting, it's not about getting the size or color right or wrong, but rather about depicting the subject as the child imagines it at that moment. By the way, parents can collect a lot of information through the pictures of their children, because children mostly use colors unadulterated and instinctively, especially in fantasy pictures. So often they will portray things that make them sad or fearful of them in dark colors, while making things that they like bright and colorful. Painting promotes concentration. To paint a picture yourself or to color a template, you need a certain amount of concentration and patience. The more often a child paints, the better they can draw their attention to this activity. However, parents should keep in mind that painting should be fun and not scold if the child decides not to finish a picture.
Painting is a preparatory exercise for school
Painting promotes dexterity and fine motor skills - and is therefore an excellent exercise for using pencil and fountain pen in school. When sorting the pens according to color, children learn to categorize; when dealing with water, chalk and ink they make their first scientific experiments. As the watercolors dry, they learn to be patient. Painting teaches in a fun way. Painting represents pictures and these pictures are imprinted in the mind. For example, when a child paints animals from a zoo, they learn what the animals look like and what their names are. If the animals then see it in reality, it can assign them more easily.
Painting supports the development of fine motor skills. Painting requires the use of tools such as colored pencils or brushes. The painting materials must be held in the hand and passed over the paper. Over time, gross motoric, imprecise strokes develop into fine contours and lines with fewer and fewer slips.
Painting gives you a feeling for colors and proportions. Painting is not initially about painting properly. However, the feeling for the right proportions and the right colors develops automatically over time.
Children love to paint things and situations that they have experienced. Taking a walk, for example, is one way of encouraging your child to look carefully at their surroundings in order to discover new motifs for the next pictures. In addition, painting arouses the ambition to actually put the desired motif on paper! Sabine Hense-Ferch