How does titanium make rose quartz pink
Rose quartz
Mineralogy:
chemistry: Quartz from the mineral class of oxides - SiO2 + AlAl6BSi3O18+ Ti, Fe, Mn
colour: light pink to lavender
hardness: 7
Crystal system: trigonal
Occurrence: Brazil, Namibia, Madagascar, South Africa and others
Rose quartz occurs in massive quantities.
Rose quartz has been revered as a healing stone for all matters of the heart since ancient times.
Rose quartz mine Madagascar
Variety: star rose quartz
It rarely forms small crystals and is then called pink quartz. Oriented, embedded rutile needles (titanium oxide) create a star formation (asterism) with the appropriate cut.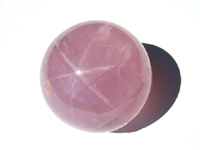 Star rose quartz ball
Variety: pink quartz
Pink quartz is the name given to the crystallized form of rose quartz. Pink quartz forms clear, idiomorphic crystals and is extremely rare.
It is found almost exclusively in Minas Gerais (Brazil).
Chemistry: Quartz from the mineral class of oxides - SiO2 + AI, P
Colour: light pink to lavender
The color is given by aluminum and phosphorus, which replace silicon in the crystal lattice.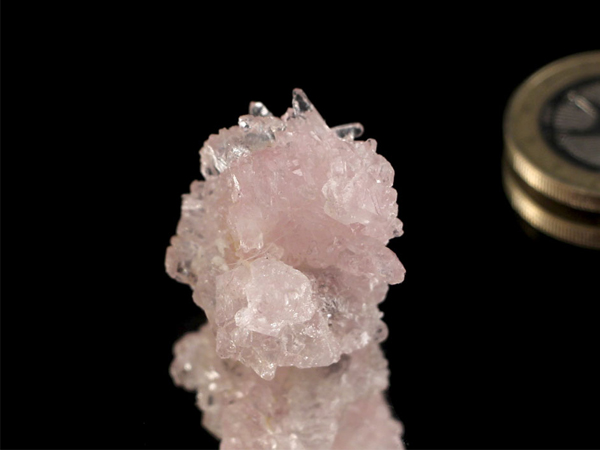 Pink quartz
Symbolic effect:
The delicate pink color symbolizes the still young rose bud, which is just about to unfold. Therefore, one can recommend rose quartz for all life situations in which a change or a new beginning takes place:

eg at birth, during puberty, pregnancy, change of occupation, menopause, divorce, as euthanasia. With "gentle determination" the rose quartz helps to develop oneself and to realize one's true needs.
It stands for unconditional love that agrees without judging. This also includes being able to accept oneself and so the rose quartz can help lonely people to find comfort and security in themselves that were denied them on the outside. The rose quartz promotes empathy, which is particularly beneficial in the case of divorces or frequent arguments. Mistrust, fear, hatred and resentment dissolve and enable the ability to forgive. It makes it easier to accept others and yourself as they / I am and thus promotes a friendly atmosphere that is characterized by mutual respect. The best way to do this is to set up a larger chunk of rose quartz in the living / dining area or at the workplace. It should also not be missing in any children's room or living room of older people! It can help you sleep better under the bed.
Just as the rose is the classic flower of love, the rose quartz is the stone for all problems in the area of ​​feelings, regardless of whether it is a matter of self-reproach or a lack of respect for others or the environment. In order to be able to give love, I first have to give up the (unconscious) conviction "I am not worthy to be loved" and begin to love myself. Only then can my love become visible on the outside.
Physical effect:
Radiesthetic tests showed that rose quartz has a positive effect on a relatively large number of frequencies. In particular, its effect in the area of ​​the nervous system and in problems with the heart and blood circulation could be confirmed, which is probably due to the manganese content. It can be used well after a "mini-nervous breakdown" because it supports strengthening and regeneration of the nerves and also on the centers of healing, charity and a sense of responsibility.
Furthermore, it has frequencies in the area of ​​digestion (bloating, liver) and has an effect on the skin (nails, warts, fatty tissue), the skeleton and the genital organs.
Application:
Rose quartz can be carried with you as jewelry or in your pocket, under the pillow or under the bed, in the room or in front of the computer. You can also put the rose quartz on your pet's sleeping place or in the drinking water, in the aquarium or next to a diseased plant.
Drunk as rose quartz water (ideally put into a glass jug with drinking water together with a rock crystal double-ended) or as a massage (ball, massage stick), rose quartz supports inner and outer harmony.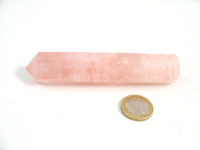 Massage stick rose quartz
Everything to do with rose quartz - text and radiesthetics. Examination results from Kristall-Studio (Erika Hausen)